Agar Agar E406 is a hydrocolloid extracted from red seaweeds that is widely used in the food industry and in certain scientific and industrial applications. It is found in various forms such as Strips, Powder or Bars.
As one professional agar agar supplier, exporter in China, our company is dedicated to supplying superior products from reliable agar agar manufacturer, most of all, our cooperative factories have all been certified by GMP, HACCP.  Contact us to get the best agar price!
Should you have any questions please feel free to send email to [email protected].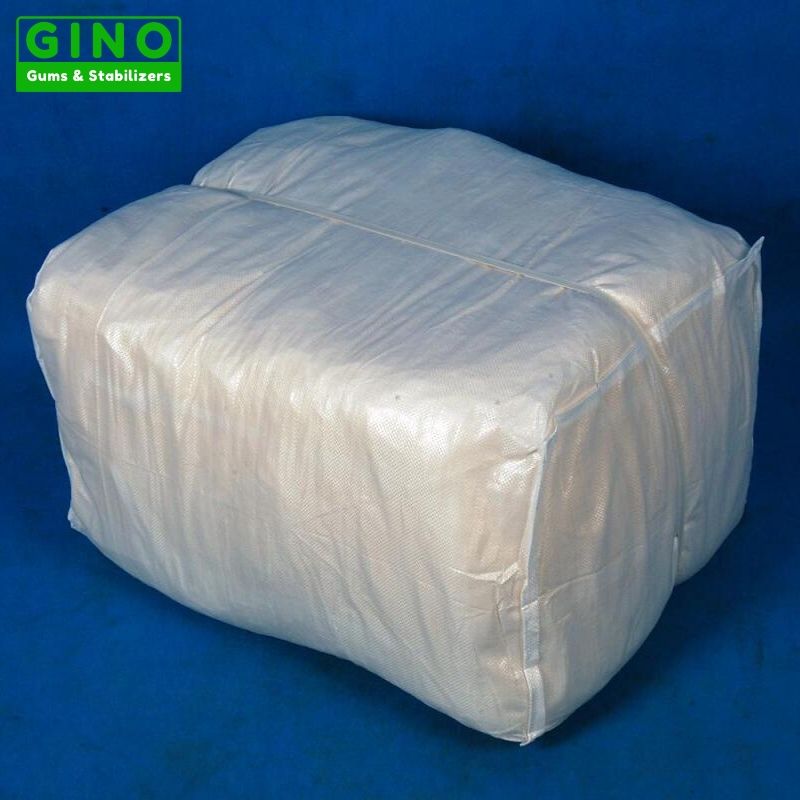 | Category | Thickeners, Stabilizers |
| --- | --- |
| E Number | E406 |
| CAS No. | 9000-70-8 |
| H.S. Code | 1302310000 |
| Origin | China |
| MOQ | 500 KG |
| Packaging | Bags |
| Payment Term | T/T, L/C |
Contact GINO_Get the Best Agar Price
Where is agar agar obtained from?
It is a family of linear galactan polysaccharides obtained from the cellular walls of red seaweeds, Gelidium and Gracilaria are the main species utilised for commercial agar production.
Gelidium species were the original materials used in Japan, but shortages in World War II led to the discovery that Gracilaria species were suitable if the seaweed was treated with alkali during processing.
Gracilaria (or Geldium) → Alkaline leaching → Washing → Bleaching → Boiling gel → Filtering → Pushing strips → Freezing → Dehydrating → Drying → Finished product → Packaging.
Working with us
Choosing Your Right Agar Agar Manufacturer
Sensory Characteristics
Appearance
It is strips from with a slightly off white color and neutral odor and taste.
Chemical And Physical Characteristics
Moisture
≤12%
Total Ash
≤5%
Gel Strength(Nikkan Method)
500-700 g/cm2
Ph
5-7
Starch Dextrin
Not Detectable
Gelatin And Other Proteins
Not Detectable
Water Insoluble Matter
≤15%
Heavy Metal
≤1 Ppm
Acid Insoluble Ash
≤0.5 %
Microbiological Characteristics
Total Plate Count
Max 5000 CFU/g
Yeast and Moulds
Max 300 CFU/g
E.Coli
Absent in 5g
Salmonella
Absent in 5g
Flexible Packaging Solutions
Custom Logo Packaging
As one professional and responsible agar agar manufacturer, in addition to providing you with quality products, we also try our utmost to offer you flexible packaging solution, to provide you customize packaging, and our aim is simple, just to:
Build up

your

brand

 

sense

 and 

develop your

 private

 brand
Promote your own brand image.
Give your promotional marketing efforts a boost.
Make you stand out from your competition.
            10 g Neutral                           20 g Red Ribbon                10-1000 g Private Label               10 Kg Neutral
Working with us
Choosing the Right Agar Agar Manufacturer
You will enjoy:
A variety of packaging styles, Flexible loading methods, Small order quantity, Prompt delivery time ...​
Loading Quantity
Packaging
Container
Quantity
Net Weight
10 Kg Pp Woven Bag
1*20' FCL
250 bags
2,500 Kgs
10 g Plastic Bag
250 bags= 250 Bundles *
1,200 Kgs
20 g Plastic Bag
250 bags= 250 Bundles *
1,200 Kgs
Delivery Time
Bulk 10 Kg Packaging
Within 2-3 weeks after the prepayment
Retail Small Packaging
Within 4-6 weeks after the prepayment
Remarks:
If 10 g plastic bag, 1 bundle =10 g * (400-500)=4.0-5.0 kgs;
If 20 g plastic bag, 1 bundle =20 g * (200-250)=4.0-5.0 kgs.
From Packing Design, Packing Material Selection, Packing Printing to Manual packing, Delivery, all in one package service.
Working with us
Choosing the Well-Reputed Shipping Lines
We only choose the well-reputed shipping lines to ensure safety and time. From our warehouse to the destination port, or even to your warehouse, "Full Tracking Service" is always with you.
We focus our main attention on various kinds of high quality Hydrocolloids and Stabilizing systems.
Need to find reliable E406 Agar Agar manufacturer, supplier, exporter in China? As one agar company, all grades and forms of agar products could be provided by Gino. We could help you find the perfect agar agar for your application.
Please complete fields below to get the latest bulk wholesale agar agar price. 
Get the Latest Agar Agar Price!!!