Plant-Based Eggs Stabilizers
Vegan Eggs Ingredients
Plant-based eggs, vegan scrambled eggs, and vegetarian eggs are all derived from plants.  However, the taste of such eggs is so similar to that of real eggs that it is difficult to distinguish between the real and the fake. Such technology comes from the American JUST.
You have no idea how great this vegetarian egg is, which in 2018 was called "The idea that changed the world in 2018" by the American media.
Indeed, it is not only the birth of a new ingredient but also a lifestyle change for many people. 
There are many people in the world who are allergic to eggs, and vegetarian eggs will allow them to experience the deliciousness of eggs.
There are also many people who are vegetarians, and many who love to eat vegetarian food, so vegetarian eggs are indeed a boon for many people.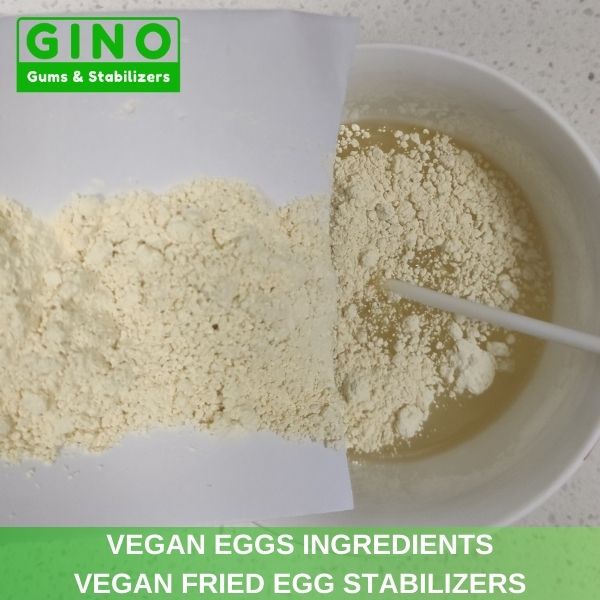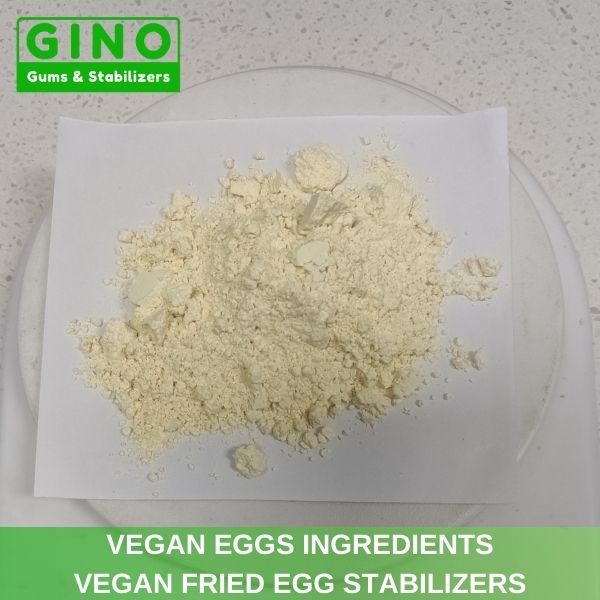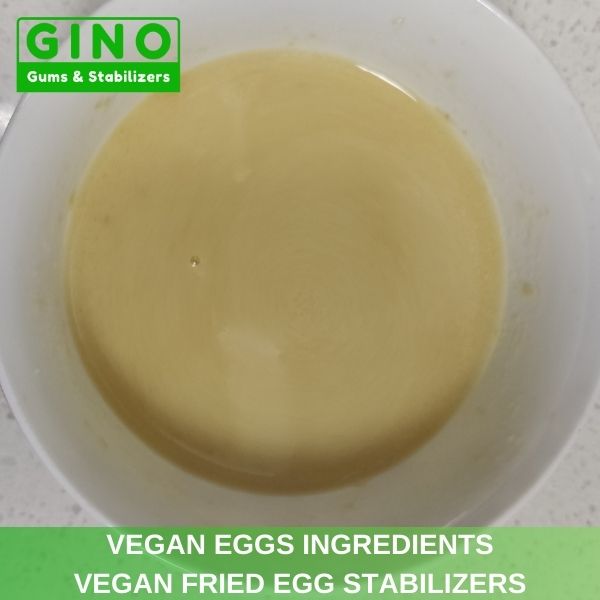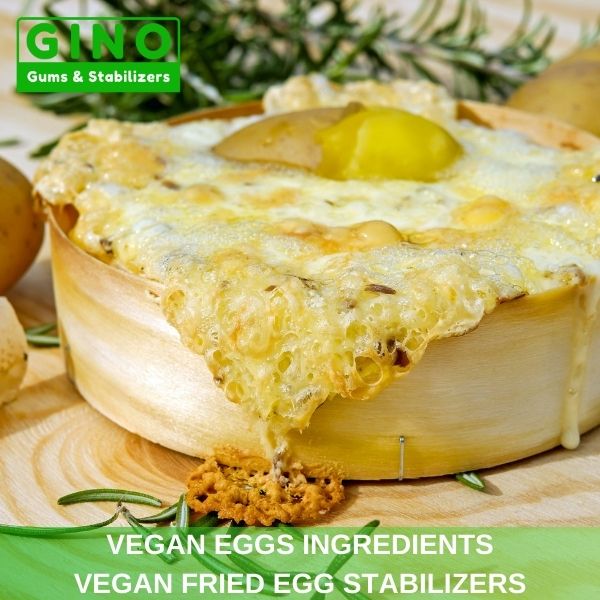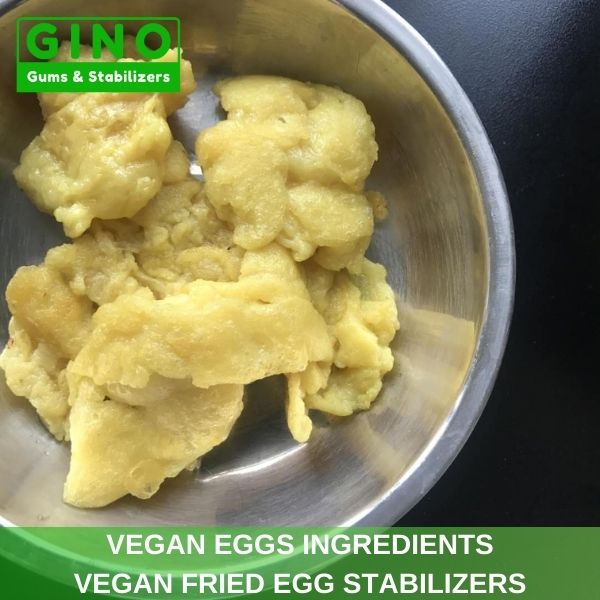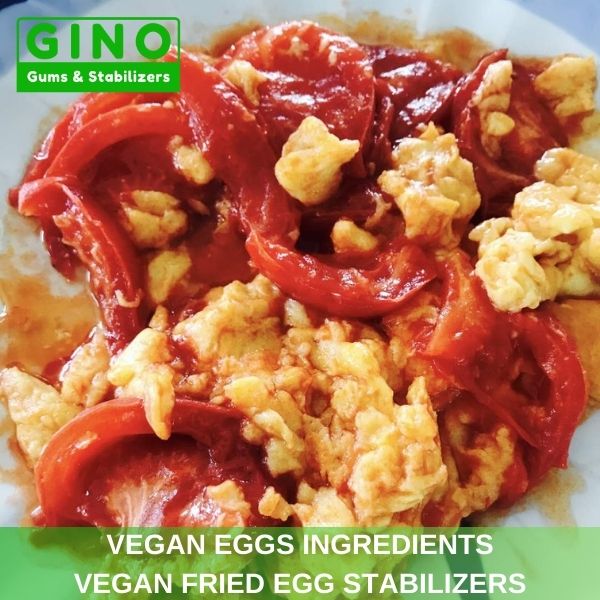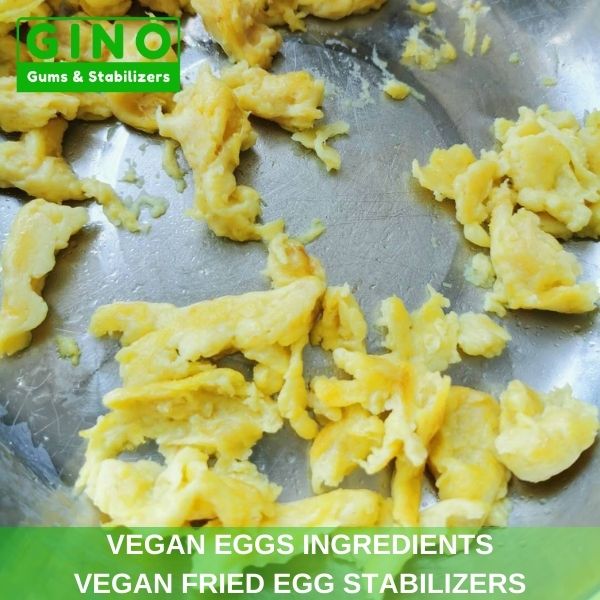 Plant-Based Eggs Stabilizers | Vegan Eggs Ingredients
| Category | Stabilizers, Thickeners |
| --- | --- |
| H.S. Code | 1302399090 |
| Origin | China |
| MOQ | 100 KG |
| Packaging | Cartons, Bags, Drums |
| Payment Terms | T/T, L/C |
| Customized Service | Available |
We will reply your inquiry
Within 12 hours
Vegan Eggs Ingredients | Plant-Based Eggs Stabilizers
Do you know what the vegan eggs ingredients are?
Vegan eggs are made by extracting proteins from beans, adding hydrocolloids as stabilizers, supplemented with other additives, and finally made into powder or liquid form.
So, you can just treat it as egg powder or egg liquid.
We currently offer plant-based eggs stabilizers mainly in powder form which used as the important vegan eggs ingredients.
Customers need to add their own spices, oil and water to create delicious vegetarian scrambled eggs.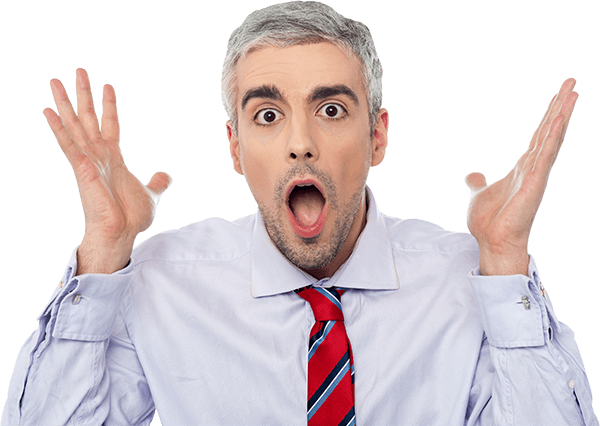 John Doe
You'd think it's amazing that there are still vegan eggs in the world. At first, I didn't believe it either, however, when I saw the chef pouring out the egg mixture (made from an amazing mix of vegan egg ingredients), cooking the egg dish and tasting it with my own eyes, I really felt convinced that the world of food is really wonderful.
Advantages of Vegan Eggs | Plant-Based Eggs
Rich in dietary fiber and various minerals: Our plant-based eggs stabilizers are used for applying in vegan fried egg to create an egg-like texture and flavor which are rich in dietary fiber and various minerals.
0 antibiotics, 0 hormones, 0 cholesterol
Low calorie and low fat
Excellent taste, similar cooking method
Our Suggested Vegan Eggs Recipe
14-16 : 100 : 2-10 (reference ratio, can be adjusted appropriately)
| | | |
| --- | --- | --- |
| Our Vegan Eggs Ingredients | Water | Vegetable Oil |
| 14 | 100 | 10 |
General Production Flow of Plant-Based Scrambled Eggs Products:
Premix: Mix the water and vegetable oil together;
Slowly add our plant-based eggs stabilizers to the mixture of water and oil, stirring until completely uniform;
Beating with a wire whip or an electric beater; continue beating for 30 to 60 seconds;
Stop beating until the solution is uniform and smooth;
Cook as needed or be stored at low temperature to stay fresh.
Where to use plant-based eggs, what can vegan eggs be used for?
1. Scrambled eggs with tomatoes, then pour the egg mixture directly into the pan, and when the eggs are stir-fried and formed, they can be scrambled together with tomatoes.
2. There are also egg pancakes, sprinkle with your favorite ingredients, fry them on the pan, and within a few minutes, they are delicious.
3. There are also egg noodles. Mixing vegan eggs into the noodles gives them the same texture and elasticity as real egg noodles.
4. The importance of eggs is also reflected mainly in baking.
Many desserts use eggs, and egg tarts, in particular, use eggs as the main ingredient.
Can such a dessert be made with vegetarian eggs? The answer is really yes.
When the tart is in the mouth, it is indeed hard for the consumer to believe that this is a tart made entirely from plants.
For you, only if you have tasted it yourself, you will know how amazing and different vegan eggs are.
Working with us | Choosing the Right Vegan Eggs Ingredients
You will enjoy:
A variety of packaging styles, Flexible loading methods, Small order quantity, Prompt delivery time ...​
Flexible Packaging Solutions | Custom Packaging
Give your promotional marketing efforts a boost with flexible packaging solutions that stands out from your competition.
Customized Solutions | Technical Services
Besides the above exiting plant-based stabilizer products, vegan eggs ingredients, we could also provide diversified product application technical services as per the production, technique, formula, goal and other requirements of the clients.
So, tell us about all your needs and let us be your food stabilizers solutions providers.
All of our Plant-Based Eggs Stabilizers, Vegan Eggs Ingredients are produced in GMP & HACCP certified plants and are all Halal and Kosher certified, so they can fully meet the religious requirements.
Most of our cooperative factories have gained the ISO 9001, ISO 22000, BRC or FSSC 22000 certification.
We keep improving our quality management and credibility management systems and ensure our compliance with relevant international and domestic quality standards and credibility standards as well as the food safety requirements of the UNFAO, EU and the USA.

We focus our main attention on various kinds of high-quality Hydrocolloids and Stabilizing systems.
No matter who you are, we could help you find the perfect gums for your application, let us be your vegan eggs ingredients supplier.
So, please complete fields below to get the latest price.