E418 Gellan Gum Supplier Manufacturer in China | Get Best Gellan Gum Price
Gellan gum is one important microbial gums. And, it is used commercially in a wide range of food applications with its unique and versatile properties. High Acyl Gellan Gum is a natural gellan gum with acyl not removed.
As one of the professional high acyl gellan gum supplier, exporter in China, Gino is dedicated to supplying superior gellan gum products from reliable gellan gum manufacturers. Meanwhile, we can offer tailor-made solutions perfectly matched to your needs.
Contact us to ask about a single hydrocolloid gum or food stabilizers (blends & systems) that would work for your products. Should you have any questions please feel free to send email to [email protected].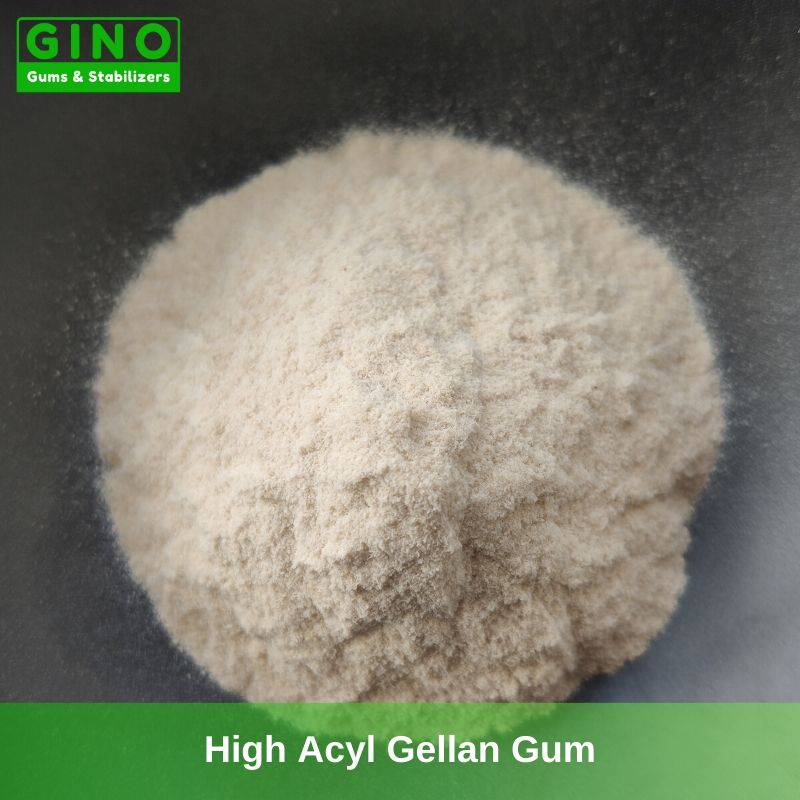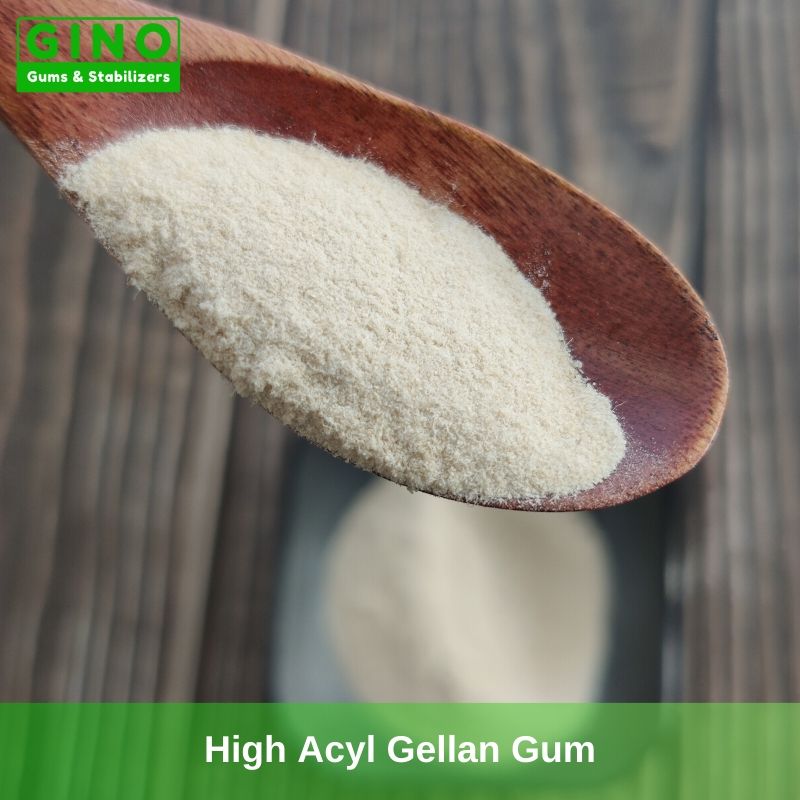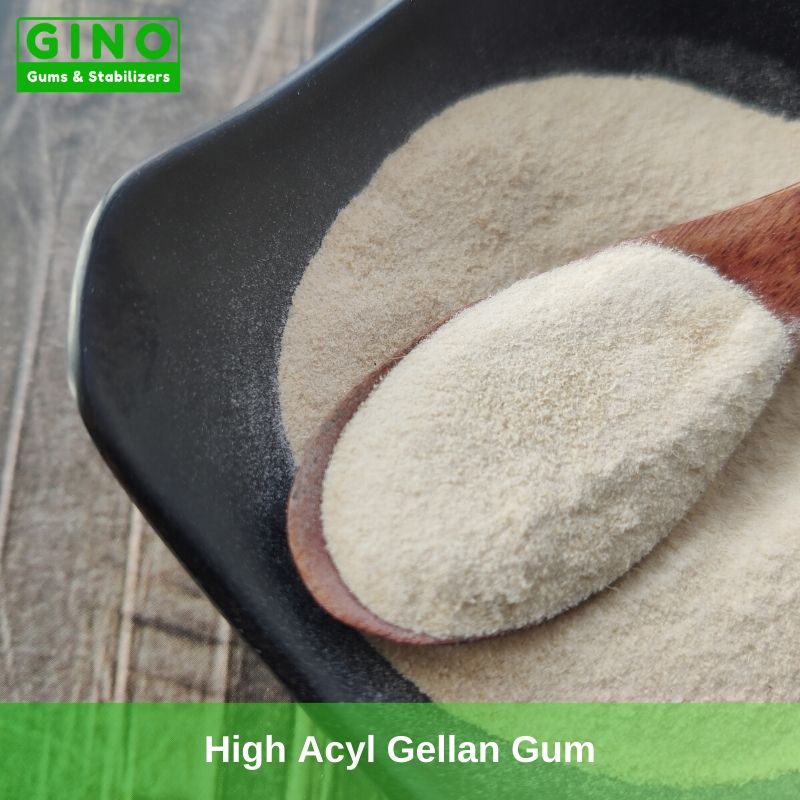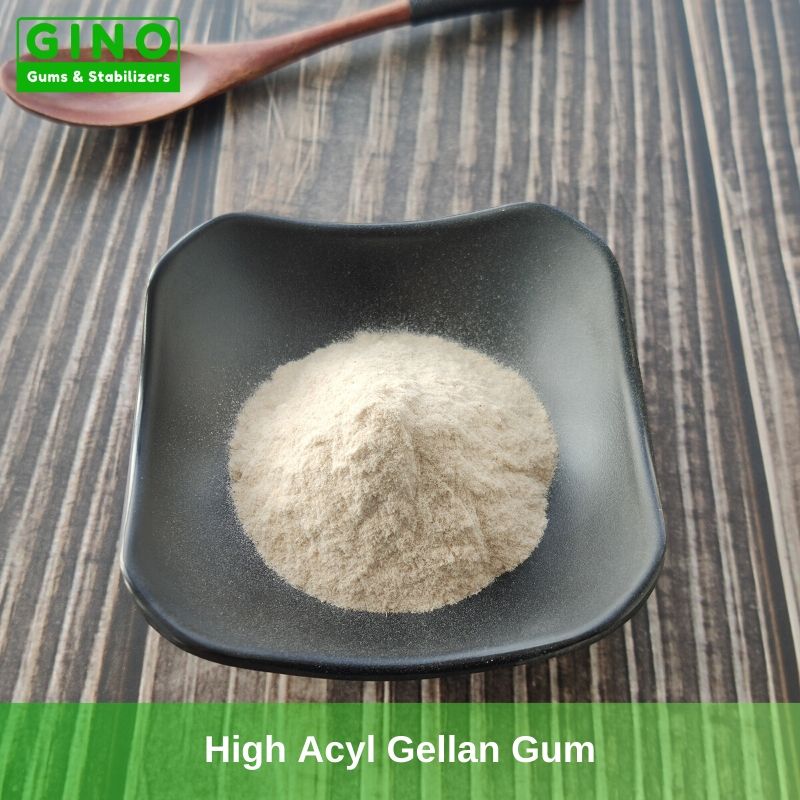 | Category | Thickeners, Stabilizers |
| --- | --- |
| E Number | E418 |
| CAS No. | 71010-52-1 |
| H.S. Code | 3506990000 |
| Origin | China |
| MOQ | 500 KG |
| Packaging | Cartons, Bags, Drums |
| Payment Term | T/T, L/C |
GINO_Gellan Gum Supplier | Gellan Gum Manufacturer
Gellan gum is divided into two types, high acyl gellan gum and low acyl gellan gum form, which are distinguished by their polysaccharide
content, the percent substitution of o-acetyl functional groups, and/or the protein content (including nucleic residues and other organic nitrogen sources) (JECFA, 1990).
Working with us
| Choosing Your Right Gellan Gum Supplier
You will enjoy all grades and forms of e418 gellan gum products, including:
Sensory Characteristics:
It is a fine granulometry powder with a slightly yellowish color and neutral odor and taste.
Chemical And Physical Characteristics:
Appearance
Yellowish Powder
Gellan Gum Content
85.0-108.0%
Transparency
- - -
Gel Strength
- - -
Loss on Drying
≤15%
Total Ash
≤15%
pH (0.5%)
4-7
Particle Size
60 Mesh ≥95%
Lead (Pb)
≤2 ppm
Microbiological Characteristics:
Total Plate Count
Max 10,000 CFU/g
Yeast and Moulds
Max 400 CFU/g
E.Coli
Absent in 25g
Salmonella
Absent in 25g
Flexible Packaging Solutions
| Custom Packaging
As one responsible gellan gum supplier manufacturer, in addition to providing you with quality products, we also try our utmost to offer you a flexible packaging solution, to provide you with customize packaging, such as:
      PP Woven Bag             Kraft Paper Bag                 Carton Box                  Fiber Drum                  Square Tin Box     
Hydration
Sequestrants
Viscosity
Gelling ions
Setting temperature
Melting
Clarity
Texture
> 80 ºC
Yes
Low
Yes (mono or divalent or acid)
25–60 ºC
No(except low ionic & in milk)
Clear
Firm, brittle
> 70 ºC
No
High
Not required
70–80 ºC
Yes
Opaque
Soft, elastic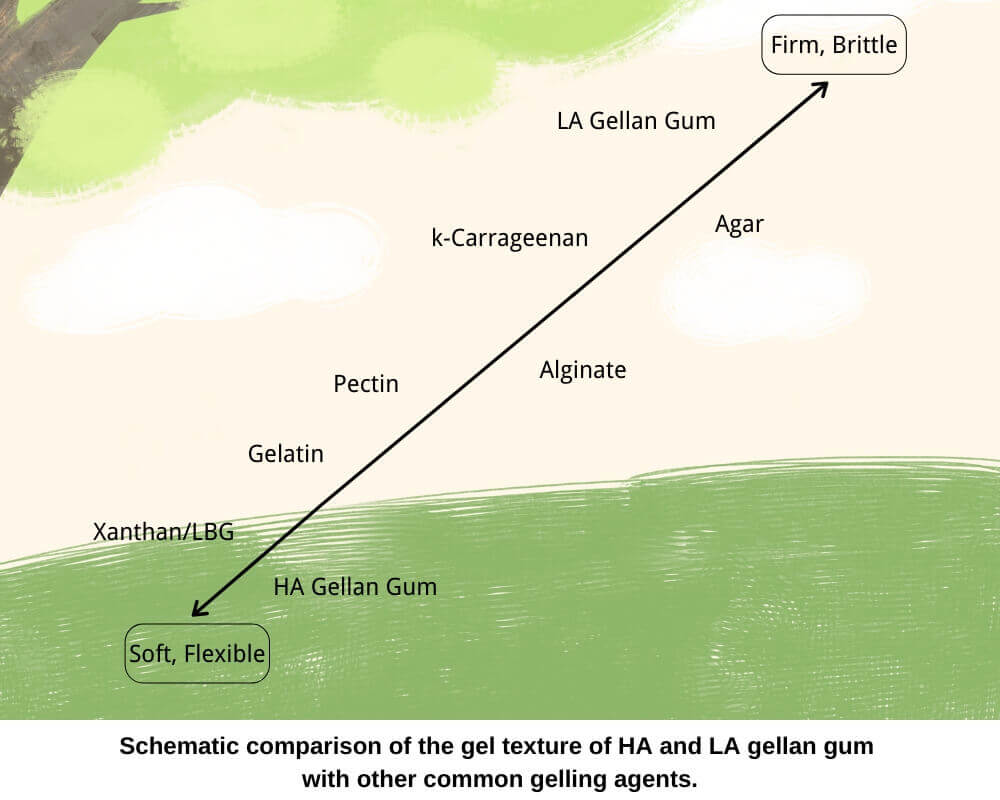 High Acyl Gellan Gum is white to tan powder with lighter density compared with low acyl gellan gum.
The setting temperature for gelling for High Acyl Gellan Gum is 50C-60C and the gels are elastic.
High Acyl Gellan Gum is not so sensitive to Calcium ions so it could be pre-mixed with kations.
Solutions made by High Acyl Gellan Gum is not transparent as Low Acyl Gellan Gum but it is protein stable.
The molecular structure of gellan gum is a straight chain based on repeating glucose, rhamnose and glucuronic acid units.
In its native, or high acyl form, two acyl substituents --- acetate and glycerate are present.
Both substituents are located on the same glucose residue and, on average, there is one glycerate per repeat and one acetate per every two repeats.
The high acyl form produces soft, elastic, non-brittle gels.
High Acyl Gellan Gum in Food:
The solution made by high acyl gellan gum is not so clear and with lower transparency.
The viscosity of high acyl gellan gum is higher, so it can be used as thickening agent. For those products who need a thicker mouth feel, we recommend high acyl gellan gum.
Protein Drinks & Fruit/Vegetable Juice:
High acyl gellan gum is recommended as a suspension agent in milk beverages, vegetable protein drinks, fruit/vegetable juice and so on. It will enhance the mouthfeel of the beverage and keep the beverage stabilizing. Especially for those where insoluble particles or fresh pulps in beverages need to be suspended, Gellan Gum HA is a perfect stabilizer.
Gellan gum for neutral pH UHT and HTST Dairy Beverage.
In meat products, Gellan gum HA will enhance the elastic characteristics when combined with Konjac Gum and Carrageenan. 
Its suggested dosage is 0.02-0.05%.
It can also be combined with other hydrocolloids to give different textures and mouth feel.
A General Instruction of Gellan Gum HA in Soybean Milk
1.Mix Gellan Gum HA and 50% of water;
2.Disperse the gellan gum in the cold water by stirring;
3.Heat at 90℃ for 10 minutes for 100% dissolving of gellan gum in water;
4.Add 50% of pure soybean milk to solution 3;
5.Cool down to 25℃. 
Contact us to get the full Instruction of Gellan Gum Applied in Plant Protein Beverage & Fruit Juice & Milk Beverage
As the E418 Gellan Gum supplier, manufacturer, exporter in China, Gino could provide you both low acyl and high acyl gellan gum at a competitive price. 
No matter you are the manufacturer, supplier, exporter, importer, or the distributor, wholesaler, retailer, we could help you find the perfect gums for your application.
Please complete fields below to get the latest E418 Gellan Gum price.
Best Selling High Acyl Gellan Gum - E418 Gellan Gum Supplier
Your Reliable Gellan Gum Supplier!!!