Sodium Alginate Food Grade MF
Your reliable sodium alginate manufacturers china!!!
Sodium alginate, which is extracted from brown seaweed (Phaeophyta) with the European food additive number E401. It is the main form of alginates used in food that can function as a thickener, stabilizer and gelling agent. This ingredient is commonly used to produce heat-stable gels and to impart viscosity in food.
As one professional Sodium Alginate supplier, exporter in China, Gino is dedicated to supplying superior alginate products from reliable sodium alginate manufacturers china. Meanwhile, we can offer tailor-made solutions perfectly matched to your needs.
Should you have any questions please feel free to send an email to [email protected].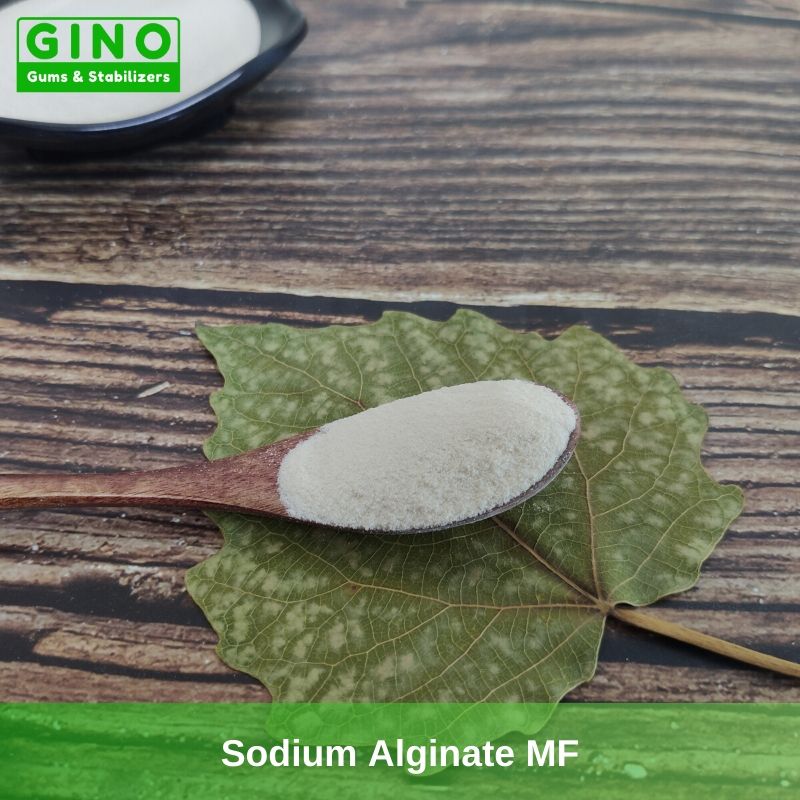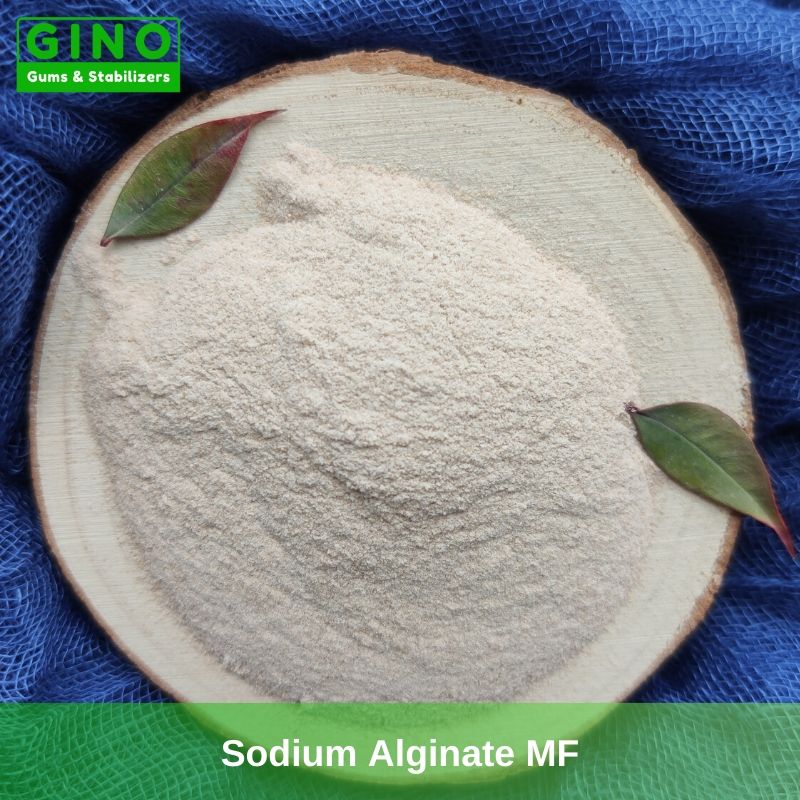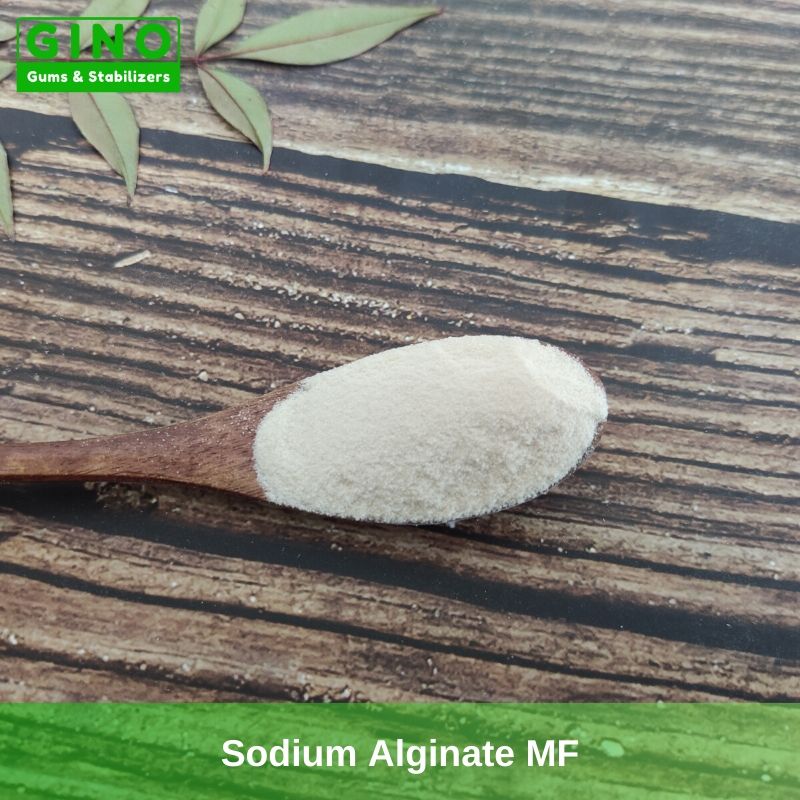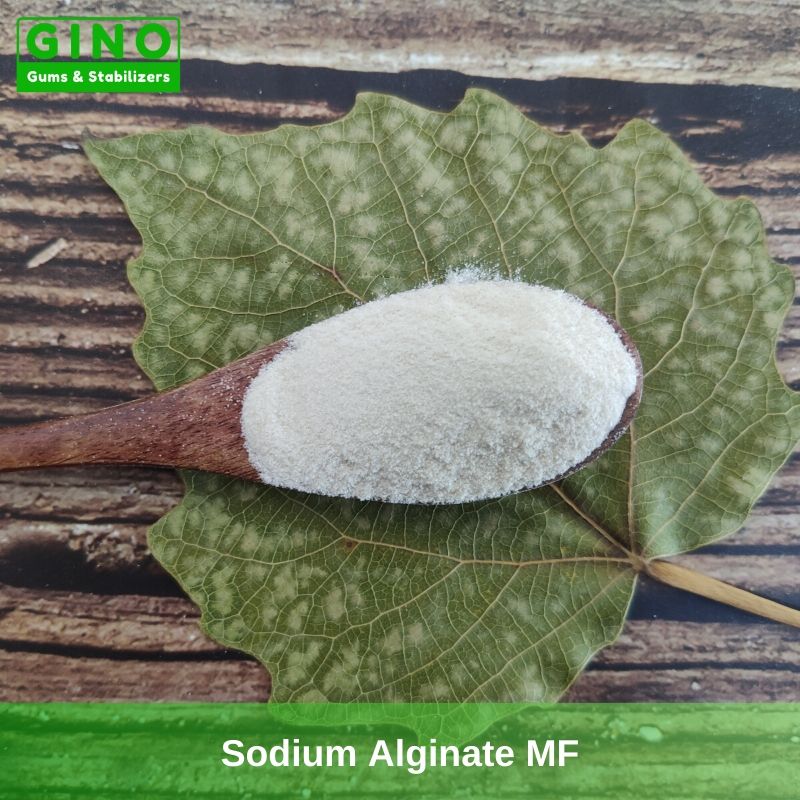 Sodium Alginate Food Grade MF
| Category | Thickeners, Stabilizers |
| --- | --- |
| E Number | E401 |
| CAS No. | 9005-38-3 |
| H.S. Code | 1302391200 |
| Origin | China |
| MOQ | 500 KG |
| Packaging | Bags |
| Payment Term | T/T, L/C |
Sodium Alginate Manufacturers China
The grain size and viscosity of our sodium alginate could be customized, and Sodium Alginate Food Grade MF has the medium viscosity from 200-800 mPa.s.​ 
Sensory Characteristics:
Appearance
Light yellow or milk white powder or granular
Chemical And Physical Characteristics:
Grain Size
As per requirement (Granular, 30/60/80/100/120/170/200 mesh)
Viscosity (mPa.s, 1% solution, 20°C)
As per requirement (Medium: 200-500, 500-800)
Loss on drying (105°C, 4h)
≤ 15%
pH (1% solution)
6.0 - 8.0
Ash (dry basis, %)
18.0 - 27.0%
Water insolubles (dry basis)
≤ 2.0%
Arsenic (As)
≤ 3 PPM
Lead (Pb)
≤ 5 PPM
Mercury (Hg)
≤ 1 PPM
Cadmium (Cd)
≤ 1 PPM
Microbiological Characteristics:
Total plate count
≤ 5000 cfu/g
Yeast & mould
≤ 500 cfu/g
E. Coli
Absent in 5 g
Salmonella
Absent in 10 g
      PP Woven Bag             Kraft Paper Bag                 Carton Box                  Fiber Drum                  Square Tin Box     
It provides a unique combination of properties including cold solubility, cold-setting gels, non-melting gels (heat/temperature independent) and freeze-thaw stable gels.
Temperature (gels and melts): not affected by temperature. Gel is heat stable up to 150 °C (302 °F) but prolonged heat treatment at low or high PH may destabilize the gel.
Texture: Thermo irreversible rigid and brittle gel in the presence of calcium. The higher the concentration of alginate and calcium, the harder the gel produced.
Appearance: clear and transparent.
Flavor release: as most hard set gels, poor flavor release.
Mouthfeel: lingering and sticky.
Freeze / Thaw stable: yes, in most applications.
Syneresis (weeping): yes, increases with gel strength.
Shearing: breaks gel.
Sodium alginate is a non-digestible carbohydrate and the FDA intends to propose it in the list of dietary fibers. It has the benefits of lowering blood sugar, blood pressure, cholesterol levels and other health effects.
What is Sodium Alginate Used for?
Sodium Alginate in Food:
In food applications, alginates provide texturizing properties such as thickening, stabilizing, and gelling.
Sodium Alginate in Non-Food:
Biotechnology: Immobilization of bacteria and yeast
Sodium Alginate in Cosmetics: To help retain moisture in cosmetics. As a bubble stabilizer and thickener in shampoo.
Pet Food: Alginate-gelled chunks
Feed: Fish feed

Sodium Alginate In Textile Printing: As thickener for the paste containing the dye
We focus our main attention on various kinds of high quality Hydrocolloids and Stabilizing systems.
This is to say, No matter who you, for example, the manufacturer, supplier, exporter, importer, or the distributor, wholesaler, retailer, we could help you find the perfect gums for your application.
So, please complete the fields below to get the latest Food Grade MF Sodium Alginate price.
Your Reliable Sodium Alginate Manufacturers China!!!