Plant-Based Yogurt Stabilizers
What is Plant-Based Yogurt?
A variety of plant milk yogurts appeared in the 2000s, using soy milk, rice milk, and nut milk such as almond milk and coconut milk fermented with cultures. These yogurts may be suitable for people with lactose intolerance or those who prefer plant-based foods such as vegetarians or vegans. Plant-based milks have different structures and components than dairy milk. 
Since plant-based milks do not contain lactose (the food of Streptococcus thermophilus and Lactobacillus bulgaricus), plant-based yogurts usually contain different bacterial strains than a dairy yogurt, such as Lactobacillus casei, Lactobacillus rhamnosus, and Bifidobacterium bifidum. 
Plant-based yogurts also vary considerably in their nutrition and ingredients, and may contain gums, yogurt stabilizers, high-intensity sweeteners, and artificial colors.
What are Yogurt Stabilizers?
Yogurt is a lactic acid fermented dairy product that is consumed all over the world. It is one of the most widely studied fermented milks.
With the development of the times, yogurt is constantly being improved to meet consumer expectations and market demands for a more attractive product while maintaining quality and nutritional effects.
Taste, flavor and texture are important sensory aspects of yogurt quality that ultimately determine consumer acceptance of the product.
An increasing number of additives (e.g. stabilizers, colorants, etc.) are being added to yogurt to improve its sensory and textural characteristics.
Many dairy manufacturers, ingredient providers, and solution providers are actively experimenting with compounding yogurt stabilizers to create better quality and more nutritious products that meet consumer needs.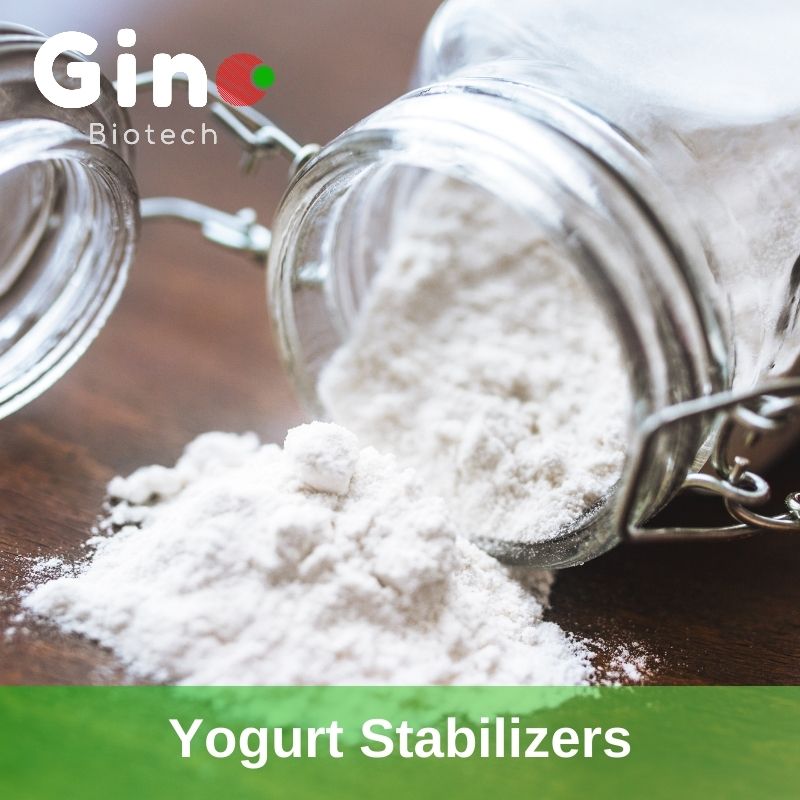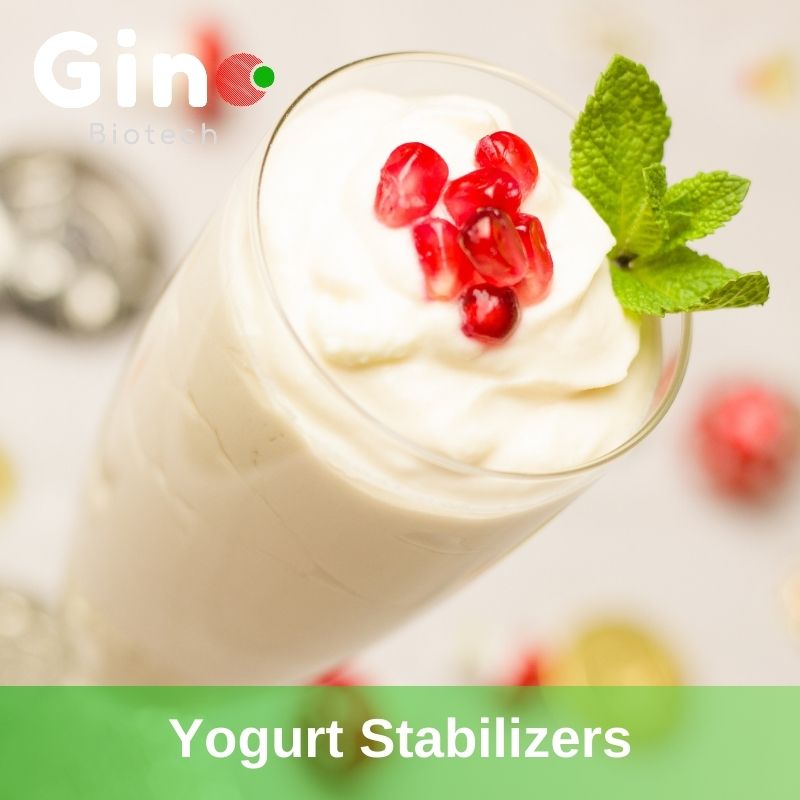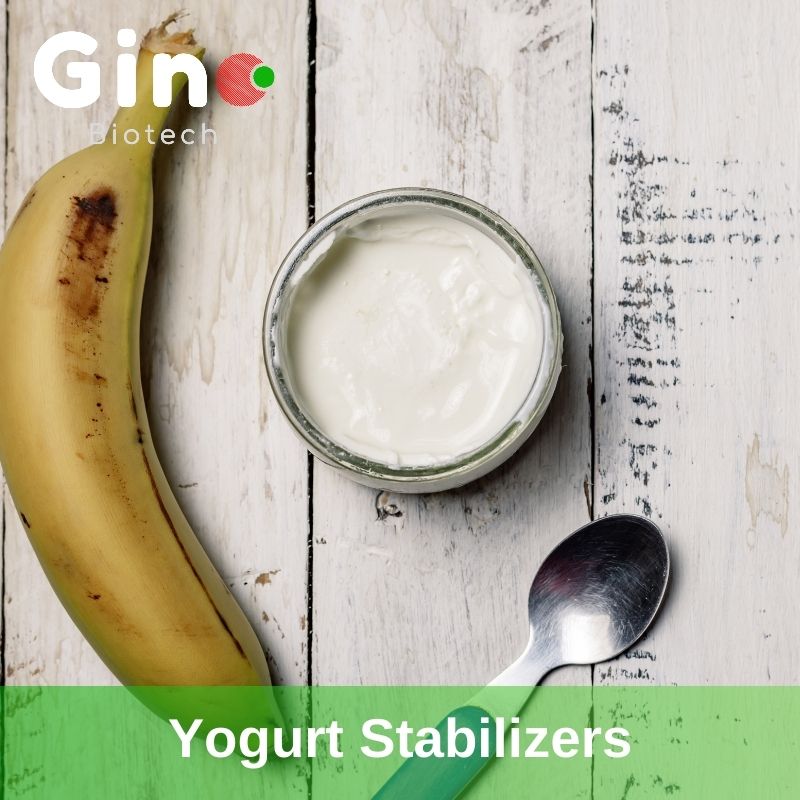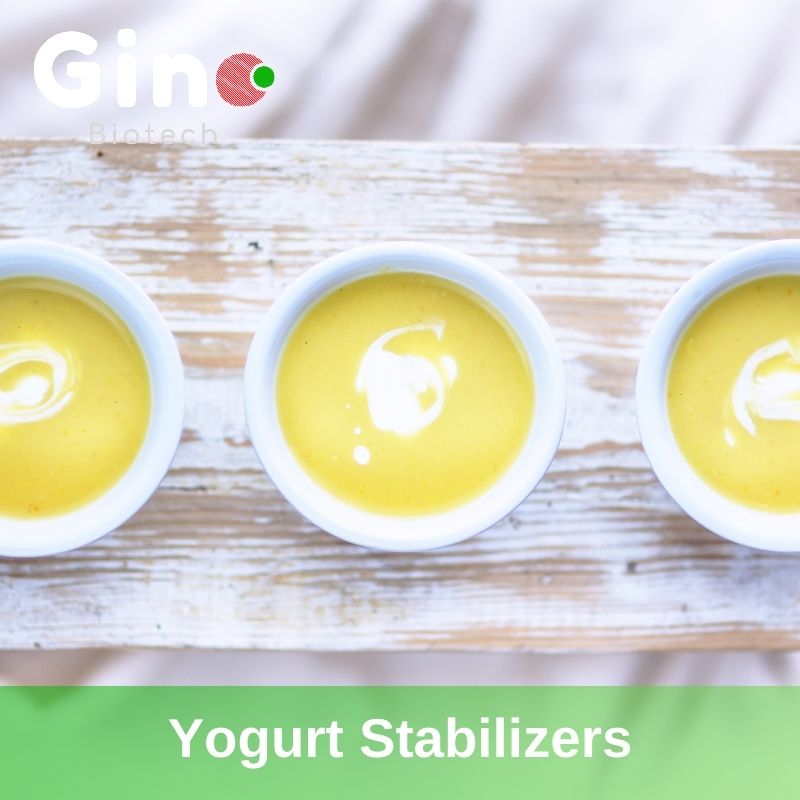 | Category | Stabilizers, Thickeners |
| --- | --- |
| H.S. Code | 1302399090 |
| Origin | China |
| MOQ | 500 KG |
| Packaging | Cartons, Bags, Drums |
| Payment Terms | T/T, L/C |
| Customized Service | Available |
We will reply your inquiry
Within 12 hours
Our Yogurt Stabilizers Products
1.
Single Hydrocolloid Used as Stabilizers in Yogurt
Gelatin could also be used as a yogurt stabilizer, but it's not in our product portfolio due to its animal source. We specialize in plant-based yogurt stabilizers.
2.
Stabilizer System | Compound Stabilizers in Yogurt
It is suitable for digging set yoghurt, good for shape and texture, useful in solving yoghurt water- separation problem.
It is suitable for stirred yoghurt with or without fruit cubes, juice to make a high consistency, shear resistance effect.
It is applied in stirred yogurt after pasteurization, which is helpful in viscosity recovery after sterilization, stable shelf-life to achieve the same taste as low-temperature yogurt.
Why should we add yogurt stabilizers?
The main purposes are as follows.
1. To enhance and maintain the good characteristics of yogurt, such as texture and structure, viscosity and consistency, appearance and taste.
2. The use of such additives in yogurt can add value in terms of nutrition and therapy.
3. improve milk body and texture by increasing firmness, preventing whey separation (syneresis) and helping to maintain a homogeneous blend of fruit in the yogurt.
When should We Add the Yogurt Stabilizers During the Production?
In brief, Before of After the fermentation. 
Use Level, Recipe Recommendation?
| | |
| --- | --- |
| Name | Suggested Use Level |
| Agar-Agar | 0.05-0.2% |
| Pectin | 0.1-0.2% |
| Gelatin | 0.2-0.6% |
| Modified Starch | 0.5-2.0% |
| Whey Protein | 1.0-3.0% |
| Stabilizer System | 0.2-0.5% |
Please contact us to get the following documents,
General Yogurt Processing Steps
Yogurt Process FlowChart
Thermised Yogurt Technology
Working with us | Choosing the Right Yogurt Stabilizer Suppliers
You will enjoy:
A variety of packaging styles, Flexible loading methods, Small order quantity, Prompt delivery time ...​
Flexible Packaging Solutions | Custom Packaging
Give your promotional marketing efforts a boost with flexible packaging solutions that stands out from your competition.
Customized Solutions | Technical Services
Besides the above exiting yogurt stabilizer products, we could also provide diversified product application technical services as per the production, technique, formula, goal and other requirements of the clients.
So, tell us about all your needs and let us be your food stabilizers solutions providers.
All of our products are produced in GMP & HACCP certified plants and are all Halal and Kosher certified, so they can fully meet the religious requirements.
Most of our cooperative factories have gained the ISO 9001, ISO 22000, BRC or FSSC 22000 certification.
We keep improving our quality management and credibility management systems and ensure our compliance with relevant international and domestic quality standards and credibility standards as well as the food safety requirements of the UNFAO, EU and the USA.

We focus our main attention on various kinds of high quality Hydrocolloids and Stabilizing systems.
This is to say, No matter who you, for example, the manufacturer, supplier, exporter, importer, or the distributor, wholesaler, retailer, we could help you find the perfect gums for your application, let us be your jelly powder supplier from China.
So, please complete fields below to get the latest price.