Hot Sale Konjac Gum 20000 - Konjac Powder Manufacturers in China
Konjac gum 20000 is a natural plant-based hydrocolloid, and, it has characteristics of thickening, stabilizing, suspending, gelling and film forming, so it is widely applied in the food industry, for example, meat products, dairy products, candies, jellies and etc. 
As one of the professional Konjac powder manufacturers, suppliers, exporters in China, Gino is always dedicated to supplying superior konjac gum products. Meanwhile, we can offer tailor-made solutions perfectly matched to your needs.
Should you have any questions please feel free to send an email to [email protected].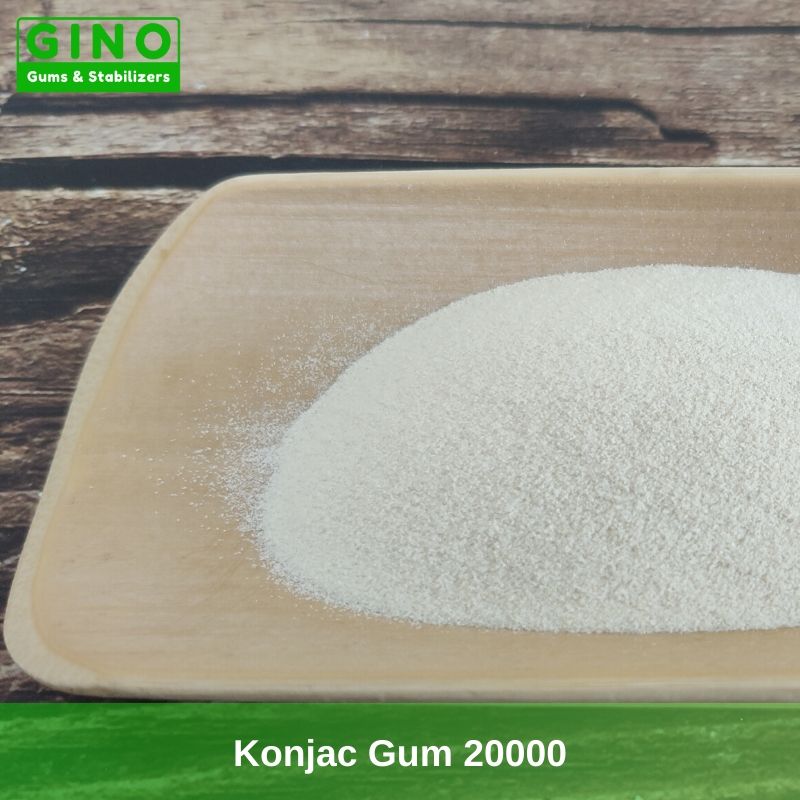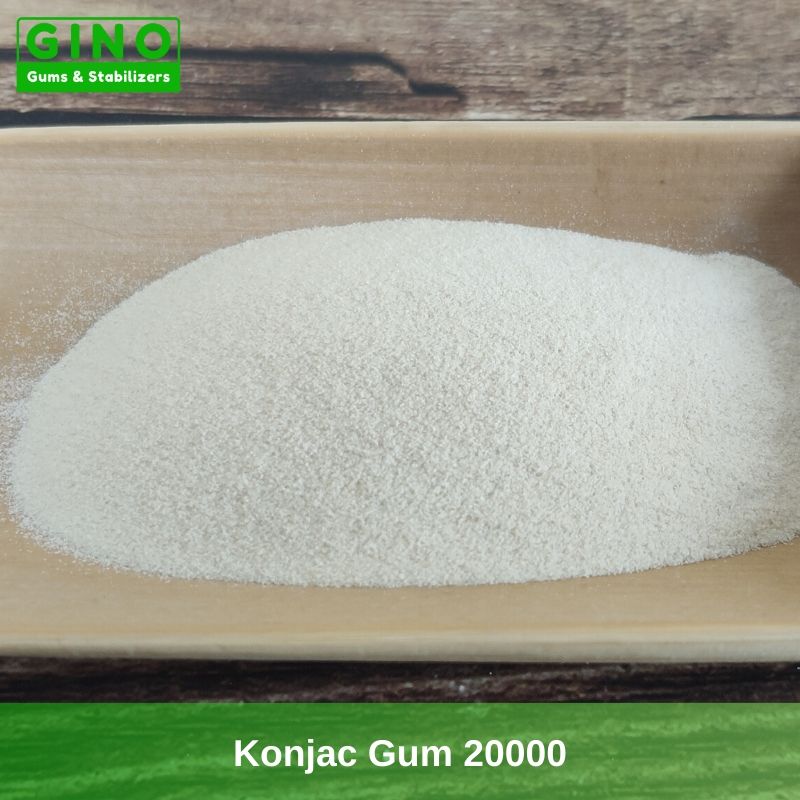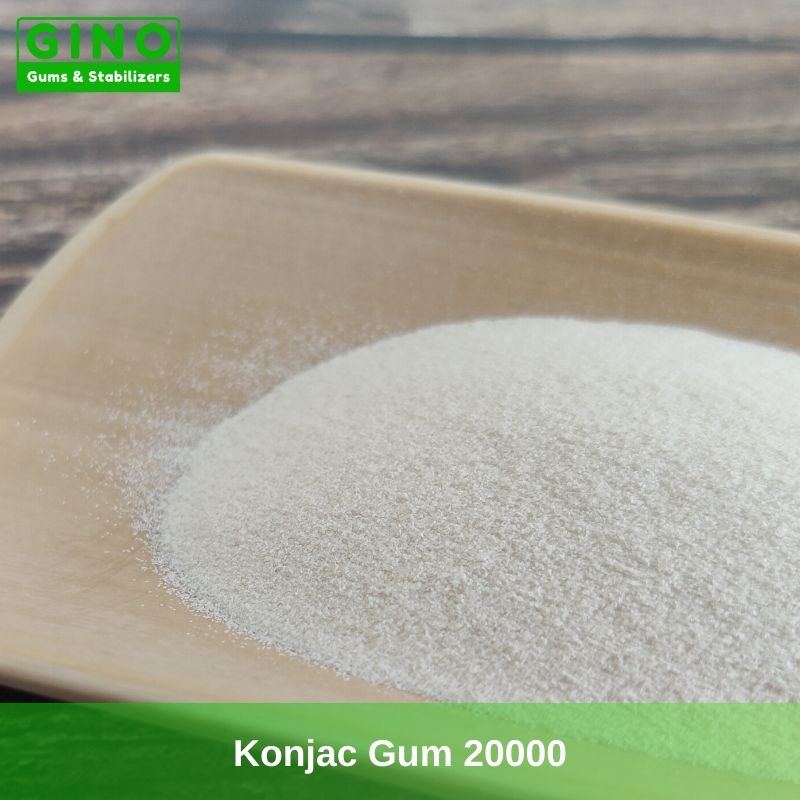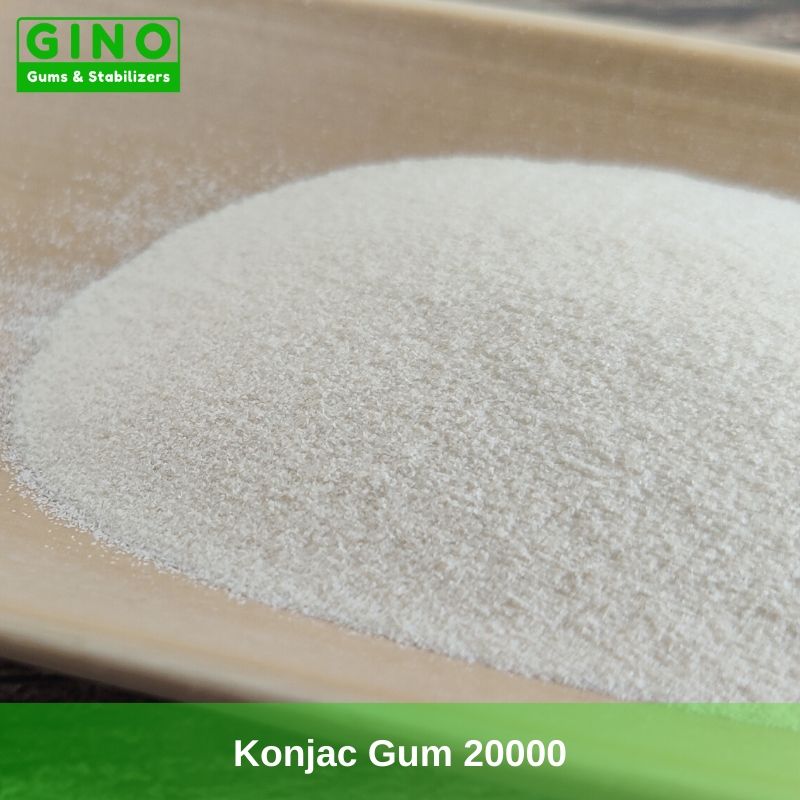 | Category | Thickeners, Stabilizers |
| --- | --- |
| E Number | E425/E425i |
| CAS No. | 37220-17-0 |
| H.S. Code | 130239 |
| Origin | China |
| MOQ | 500 KG |
| Packaging | Cartons, Bags |
| Payment Term | T/T, L/C |
Sensory Characteristics:
It is a white to yellowish powder with a few brown particles inside, neutral odor and taste.
Chemical And Physical Characteristics:
Konjac Gum 20000
Viscosity(1.5% 75℃)
≥ 20000 mPa.s
Glucomannan Content
≥80%
Transparency (0.5% solution 550nm)
≥70%
Particle Size(Mesh)
90% pass 120 mesh
Moisture
≤10%
Total Ash
≤3.0%
pH (1%)
5.0-7.0
Sulfur Dioxide (SO2)
≤0.9%
Lead (Pb)
≤0.8 ppm
Arsenic (As)
≤3 ppm
Microbiological Characteristics:
Total Plate Count
≤2,000 CFU/g
Yeast and Moulds
≤100 CFU/g
E.Coli
Absent in 5g
Salmonella
Absent in 10g
Remark 1
Viscosity test method:1% solution,30℃ dissolved,NDJ-1 type viscometer,4# spindle,12r/min.
Remark 2
Special specifications products(low sulfur,high transparency.etc.)can be produced according to customer demand.
Konjac gum is readily soluble in cold water, and the solution exhibits a high degree of pseudoplastic flow.
Its viscosity is very stable over a wide range of pH and temperature, and the polysaccharide is resistant to enzymatic degradation.
Konjac gum exhibits synergistic interaction with galactomannans such as guar gum and locust bean gum and konjac gum.
This resulted in enhanced viscosity of guar gum, while the thermo-reversible gels of LBG and konjac gum were soft and flexible.
Thickening and gelling agents for a wide variety of food.
A vegan substitute for gelatin. 
It is composed of 85-90% Glucomamman and is used in Asia to create a flour and a high viscosity jelly. 
It is synergistic with kappa carrageenan and xanthan gum forming thermoreversible, elastic gels. 
Konjac is used as a substitute for gelatin to thicken or add texture to food. It is also used in traditional Chinese medicine. In the Western world, konjac is best known as a dietary supplement for weight loss and cholesterol management.
We focus our main attention on various kinds of high quality Hydrocolloids and Stabilizing systems.
This is to say, No matter who you, for example, the manufacturer, supplier, exporter, importer, or the distributor, wholesaler, retailer, we could help you find the perfect gums for your application.
So, please complete the fields below to get the latest Konjac Gum 20000 price.
Hot Sale Konjac Gum 20000 - Konjac Powder Manufacturers in China