Jelly Thickener (Jelly Powder)
Jelly is a semi-solid jelly-like food made of edible sugar and food thickening agent, supplemented with acidifier, coloring agent and flavoring and so on.
Jelly Powder is a compound food additive which used hydrocolloid as the main ingredient. It is a good material for the production of jelly products. Its market share has increased sharply since launching and it is highly popular among jelly manufacturers.
As one professional jelly powder supplier, exporter in China, Gino is dedicated to supplying superior customized food stabilizers from reliable manufacturers. We can offer tailor-made solutions perfectly matched to your needs.
Should you have any questions please feel free to send an email to [email protected].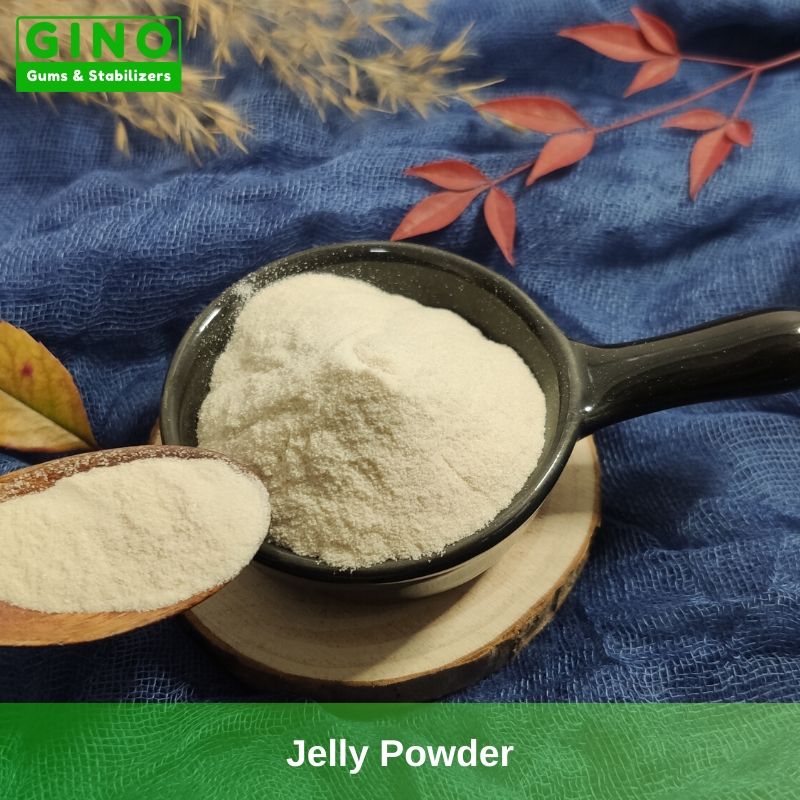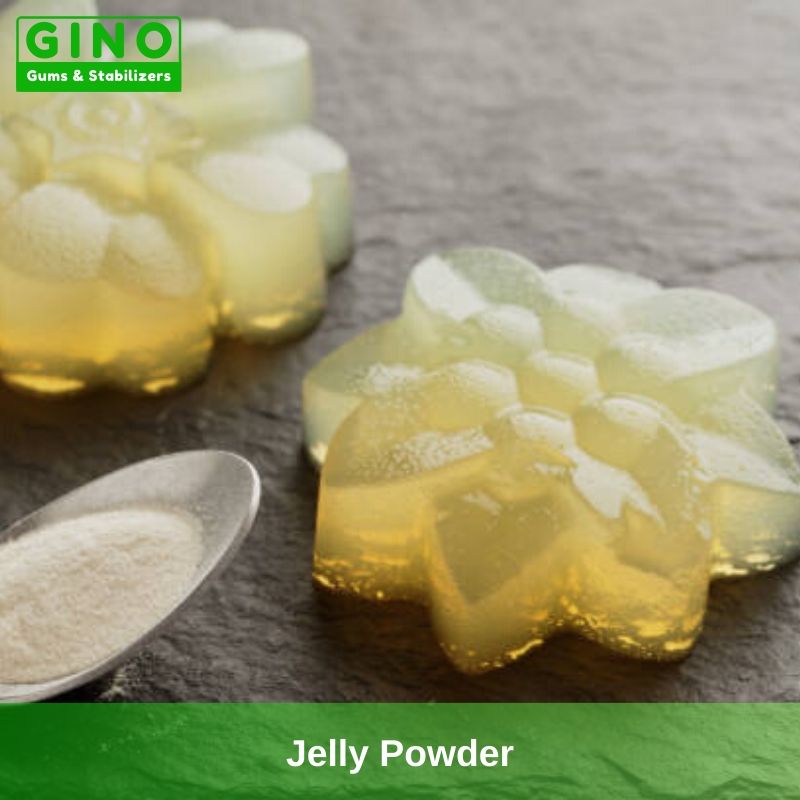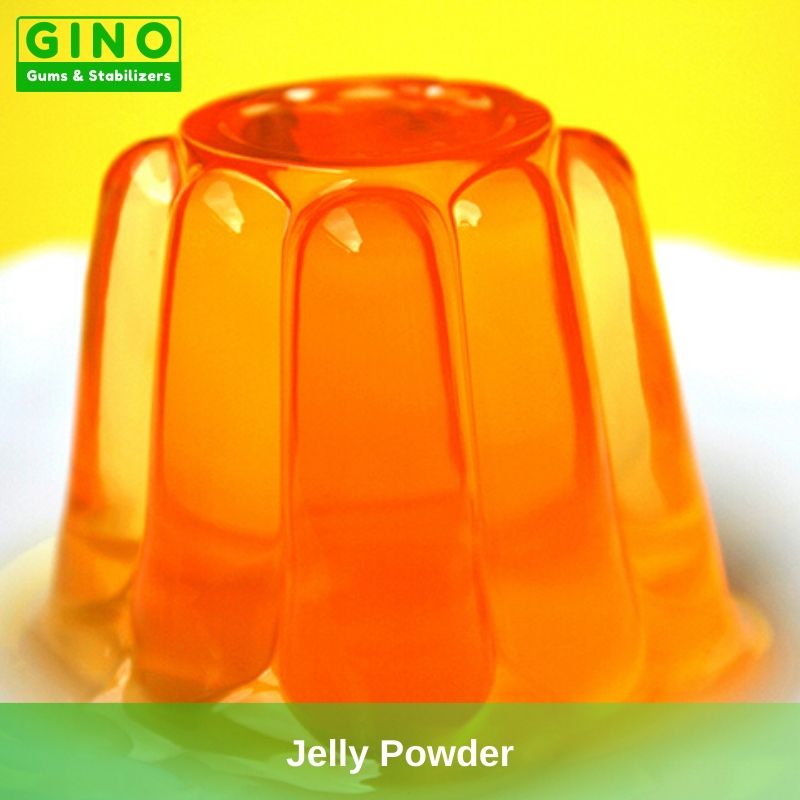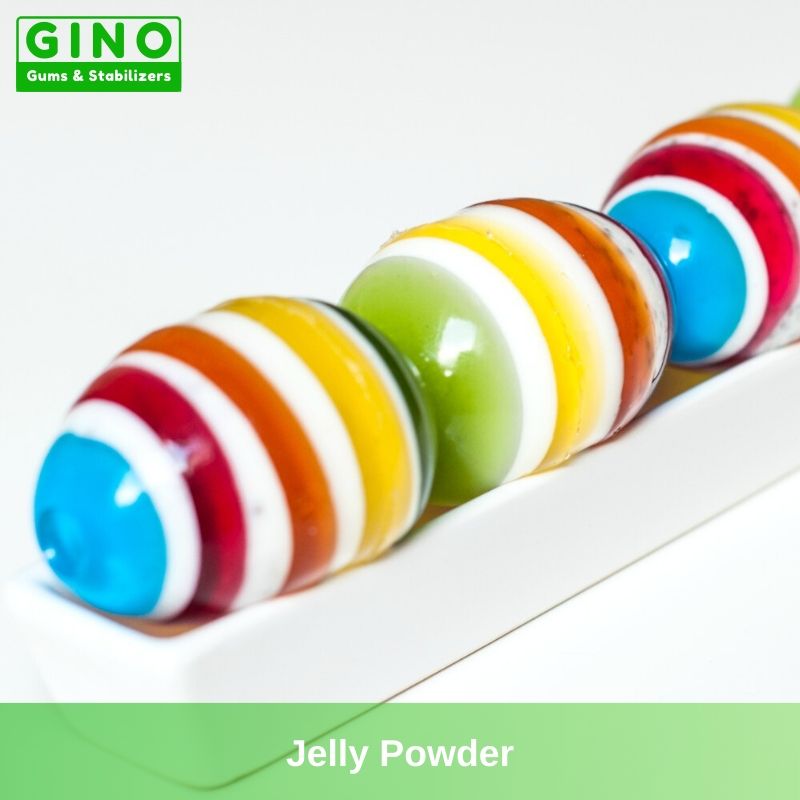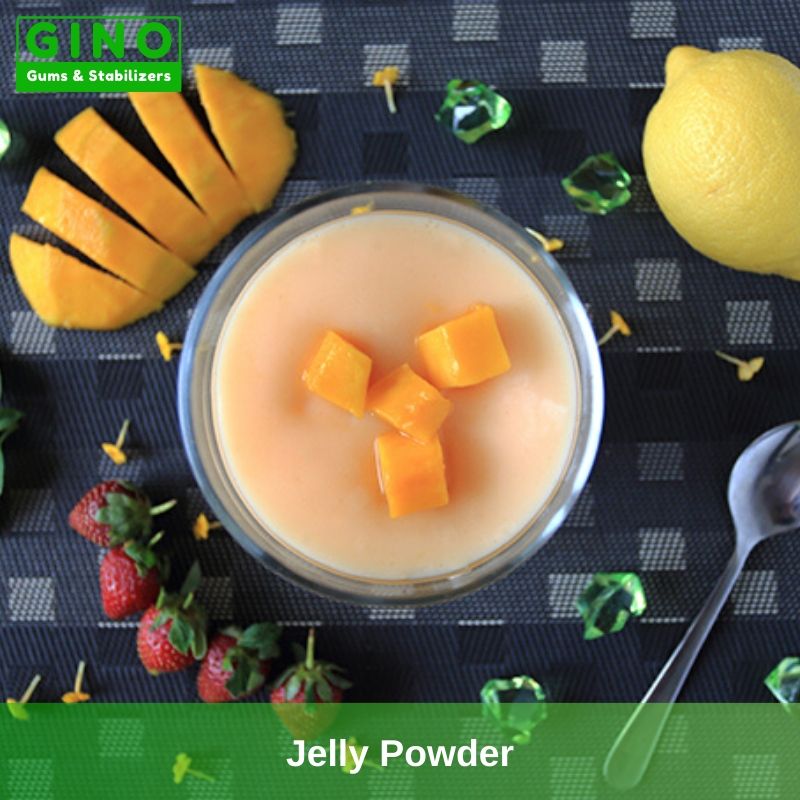 Jelly Powder | Jelly Thickener
| Category | Stabilizers, Thickeners |
| --- | --- |
| H.S. Code | 2106909090 |
| Origin | China |
| MOQ | 500 KG |
| Packaging | Cartons, Bags, Drums |
| Payment Terms | T/T, L/C |
| Customized Service | Available |
We will reply your inquiry
Within 12 hours
Our Jelly Powder Products
We have developed multiple series of blended food stabilizers for use in jellies & puddings. Gino is your premier jelly powder supplier who works directly with you to provide customized solutions.
1.
High-Transparency | High-Elasticity Jelly Powder
It has a high degree of transparency, outstanding tenacity and elasticity, high chewiness and stiffness and does not require filtration. It is applicable for the production of high-grade jellies and pulp jellies.
2.
High-Elasticity Jelly Powder
The jellies are characterized by high stiffness, good water retention, excellent elasticity. high tenacity and high chewiness through scientific combination. It is applicable for the production of highly tenacious jelly bars and highly sour candy jellies.
3.
High-Transparency | High Crispy Jelly Powder
Compared with High-transparency | high-elasticity jelly powder, It also has a high degree of transparency, but its gel is not elastic but firm and brittle, with high crispy.
4.
Acid-Resistant Multilayer Jelly Powder
5.
High Temperature-Resistant Multilayer Jelly Powder
The jellies are tender, soft, smooth and tasty with good resistance to heats through scientific combination. It is applicable to the production of dairy puddings and multi-layered jellies.
6.
Transparent Drinkable Jelly Powder
7.
Opaque Drinkable Jelly Powder
It is applicable to the production of jelly bars and drinkable jellies. The jellies have high transparency, good taste, and good water retention with a fruit ball feeling in the mouth. It does not require filtration and is applicable to various types of techniques.
8.
High-Elasticity Jelly Powder Without Konjac
9.
High Crispy Jelly Powder Without Konjac
In the EU, the US, Canada, Australia, England, Malaysia and many other countries, Mini jelly cups containing konjac having a
height or width of less than or equal to 45mm has been banned for sale since 2002 because there is a risk of choking.
As a reaction to the policy, we have developed a wide range of compound jelly thickener without konjac.
- Konjac-Free
- Soft and elastic gel
- Good water holding capacity (No weeping)
- 0.6-0.8% dosage
- Semi-transparent (not pure transparent, good for Litchi jelly)
- Low Price
- Prompt delivery
As one of the most professional hydrocolloid suppliers and customized solution providers, our products don't stop there; more new products are on the way.
We are here waiting for you to explore the endless possibilities with us!
High Elastic Lactic Acid Jelly Powder
High Crisp Lactic Acid Jelly Powder
High-Elasticity Jelly Sticks Powder
High Crispy Jelly Sticks Powder
High Strength and Smooth Taste Grass Jelly Powder
Low Strength and High Elastic Soft Taste Grass Jelly Powder
Other Food Stabilizers Products
Working with us | Choosing the Right Jelly Thickener Suppliers
You will enjoy:
A variety of packaging styles, Flexible loading methods, Small order quantity, Prompt delivery time ...​
Flexible Packaging Solutions | Custom Packaging
Give your promotional marketing efforts a boost with flexible packaging solutions that stands out from your competition.
Customized Solutions | Technical Services
Besides the above exiting products, We could also provide diversified product application technical services as per the production, technique, formula, goal and other requirements of the clients.
So, tell us about all your needs and let us be your food stabilizers solutions providers.
All of our products are produced in GMP & HACCP certified plants and are all Halal and Kosher certified, so they can fully meet the religious requirements.
Most of our cooperative factories have gained the ISO 9001, ISO 22000, BRC or FSSC 22000 certification.
We keep improving our quality management and credibility management systems and ensure our compliance with relevant international and domestic quality standards and credibility standards as well as the food safety requirements of the UNFAO, EU and the USA.

We focus our main attention on various kinds of high quality Hydrocolloids and Stabilizing systems.
This is to say, No matter who you, for example, the manufacturer, supplier, exporter, importer, or the distributor, wholesaler, retailer, we could help you find the perfect gums for your application, let us be your jelly powder supplier from China.
So, please complete fields below to get the latest price.