Spreadable Agar | Instant Agar
Spreadable Agar (Instant Agar) is a hydrocolloid extracted from red seaweeds that is widely used in the food industry and in certain scientific and industrial applications.  
As one of the professional spreadable agar suppliers, exporters in China, Gino is dedicated to supplying superior Agar Agar products from reliable manufacturers. With our variety of Gelling / Stabilizing systems, we can create tailor-made solutions perfectly matched to the needs of our customers. 
Contact us to ask about a single hydrocolloid gum or food stabilizers (blends & systems) that would work for your products. Should you have any questions please feel free to send an email to [email protected].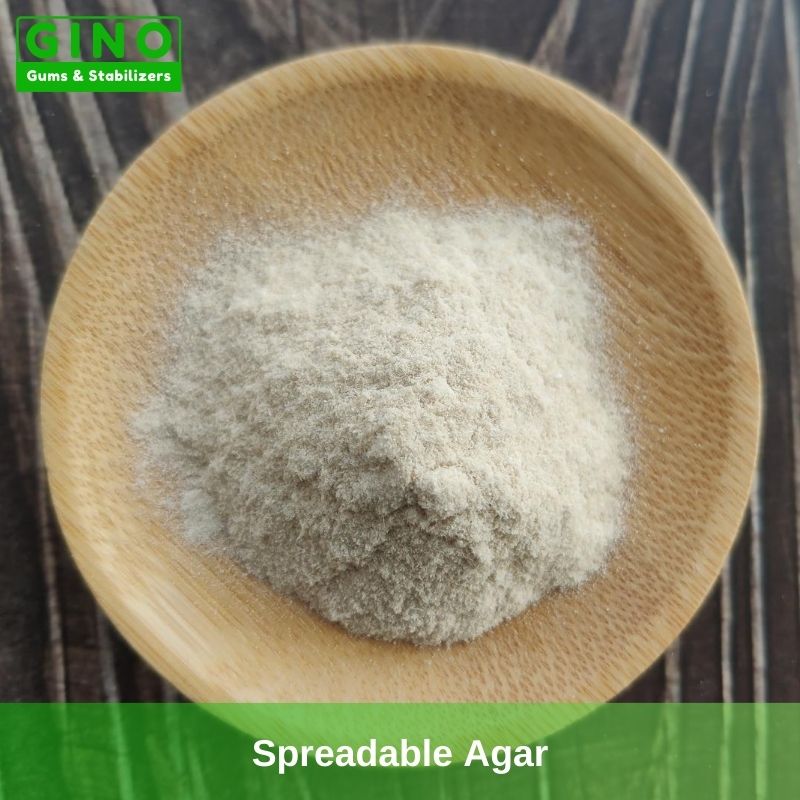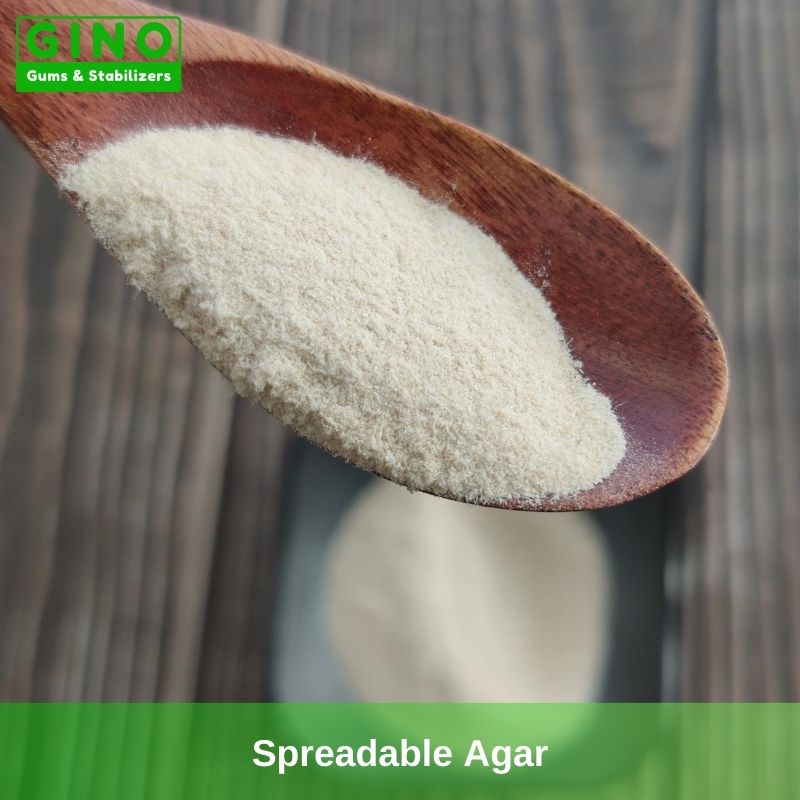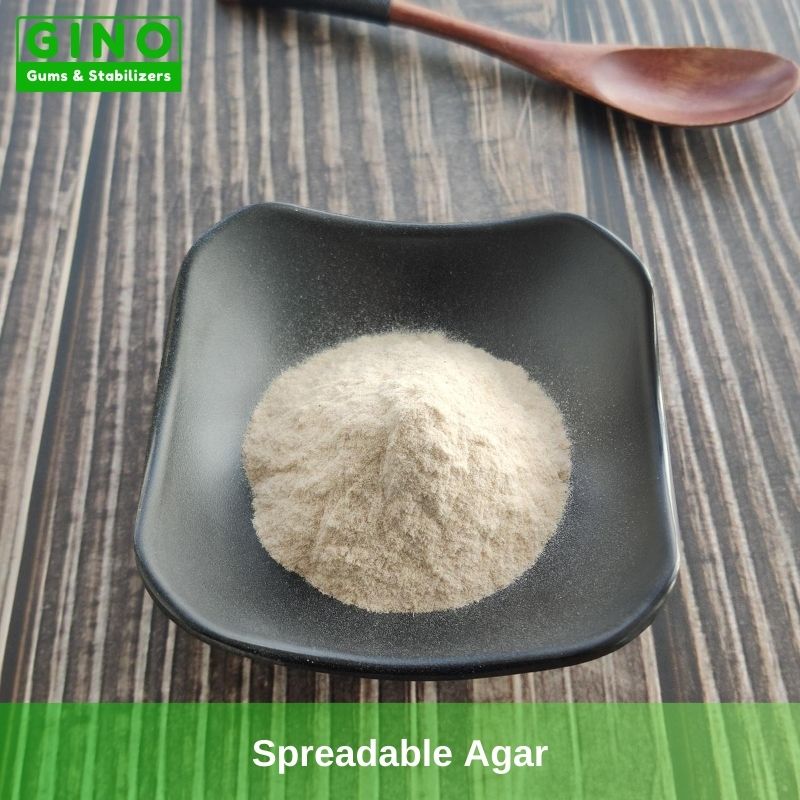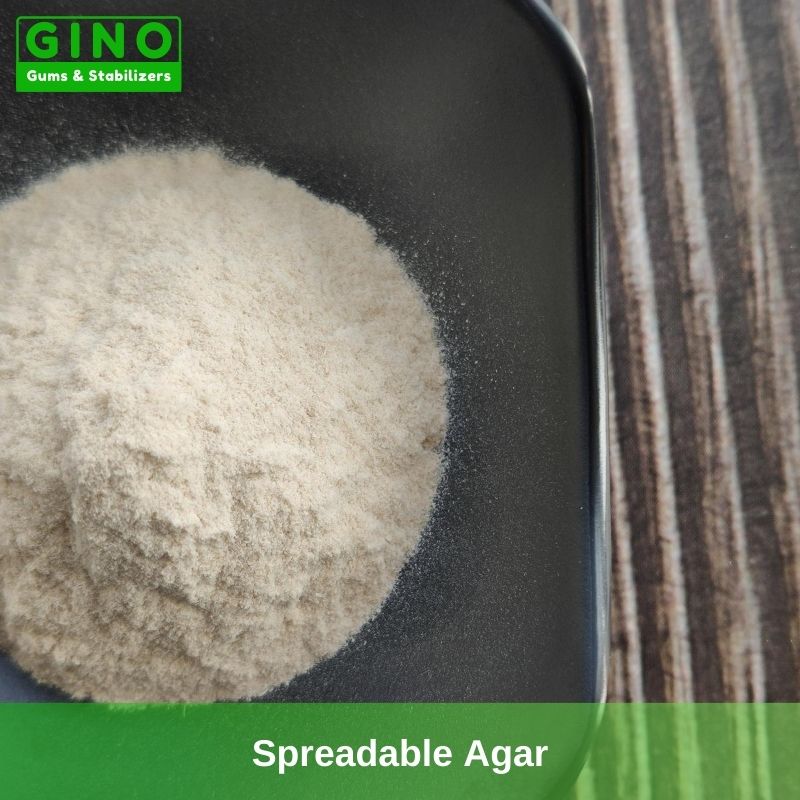 Spreadable Agar | Instant Agar
| Category | Thickeners, Stabilizers |
| --- | --- |
| E Number | E406 |
| CAS No. | 9000-70-8 |
| H.S. Code | 1302310000 |
| Origin | China |
| MOQ | 500 KG |
| Packaging | Cartons, Bags, Drums |
| Payment Term | T/T, L/C |
Spreadable Agar (Instant Agar) is a low temperature instant agar which is obtained by transforming the rigid structure of the conventional agar with no chemical treatment.  
Texture: It gives a softer and creamy texture which still maintaining the natural benefits of seaweed fibre.
Gel ability & solubility: It has excellent gel performance in low temperature, can be dissolved completely at 75-80℃ in 7-10 minutes.
Transparency: It has better solubility transparency and it is convenient to use.
ITEMS
SPECIFICATIONS
TEST RESULTS
Appearance
Pale yellow to off white powder
Qualified
Moisture, %
≤ 22.0
4.2
Mesh
-
80 Mesh:100%
Gel Strength (1.5%), g/cm2
According to the need
50
Total Ash, w/%
≤ 5.0
2.6
Water-Insoluble Substance, w/%
≤ 1.0
< 1.0
Starch Test
Pass test
Pass test
Gelatin Test
Pass test
Pass test
Lead(Pb), mg/kg
≤ 5.0
Qualified
Arsenic(As), mg/kg
≤ 3.0
Qualified
Total Plate Count, CFU/g
≤ 5000
< 5000
E.Coli
Absent in 5 g
Qualified
Salmonella
Absent in 25 g
Qualified
Conclusion
Qualified, fit for human consumption.
Spreadable Agar (Instant Agar) could be widely used as stabilizer in Cake Glaze, Custards, Jams and Marmalade, Pie Fillings, Spreadable Cheese, Yogurts, Condensed Milk, Chocolate Milk, Salad Dressings and so on.
Spreadable Agar (Instant Agar) is one kind of vegetable gums, which contains high quality dietary fiber, it's 100% green, healthy and safe.

Due to its unique solubility, it can be rapidly dissolved at 75-80℃ in 7-10 minutes.

Spreadable Agar can form a non-drawing gel with syrup and other solids, easy to stir.

Compared with traditional agar, spreadable agar has better transparency, make the jam brightness, similar to the mirror.

Spread Agar can be produced according to demand gel, adjustable strength.
Flexible Packaging Solutions
| Custom Packaging
Give your promotional marketing efforts a boost with flexible packaging solutions that stands out from your competition.
      PP Woven Bag            Kraft Paper Bag              Carton Box                  Fiber Drum                Square Tin Box     
Working with us
| Choosing the right spreadable agar manufacturers
You will enjoy:
A variety of packaging styles, Flexible loading methods, Small order quantity, Prompt delivery time ...​
Loading Quantity
Packaging
Container
Quantity
Net Weight
PP Woven Bag
1*20' FCL
640-720 Bags
16-18 MT
Kraft Paper Bag
640-720 Bags
16-18 MT
Carton Box
540 Boxes With Pallets
13.5 MT
600 Boxes Without Pallets
15 MT
Drum
320 Drums With Pallets
8 MT
400 Drums Without Pallets
10 MT
Square Tin
1,000 Tins With Pallets
10 MT
1,200 Tins Without Pallets
12 MT
Delivery Time
Bags or Carton  Packaging
Within 2-3 weeks after the prepayment
Drum or Tin Packaging
Within 4-6 weeks after the prepayment
Working with us
| choosing the well-reputed shipping lines
We only choose the well-reputed shipping lines to ensure safety and time. From our warehouse to the destination port, or even to your warehouse, "Full Tracking Service" is always with you.
We focus our main attention on various kinds of high-quality Hydrocolloids and Stabilizing systems.
No matter you are the manufacturer, supplier, exporter, importer, or the distributor, wholesaler, retailer, we could help you find the perfect gums for your application.
Please complete the fields below and we will respond to you as soon as possible.