Agar Agar E406 is a hydrocolloid extracted from red seaweeds that is widely used in the food industry and in certain scientific and industrial applications. It is found in various forms such as Strips, Powder or Bars.
As one professional agar agar supplier, exporter in China, our company is dedicated to supplying superior products from reliable agar agar manufacturer, most of all, our cooperative factories have all been certified by GMP, HACCP. 
Contact us to ask about a single hydrocolloid gum or food stabilizers (blends & systems) that would work for your products. Should you have any questions please feel free to send an email to [email protected].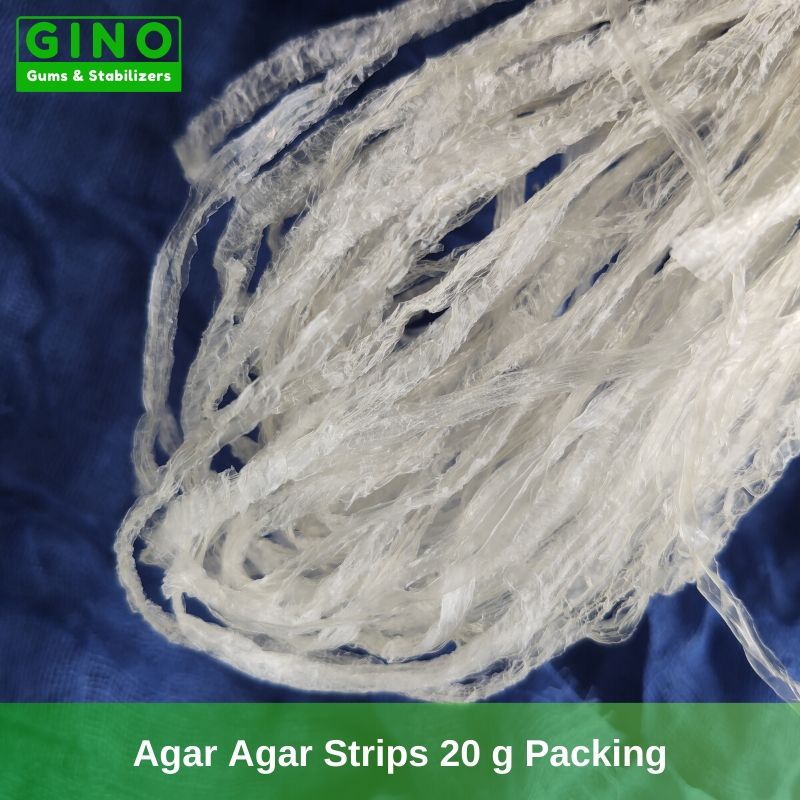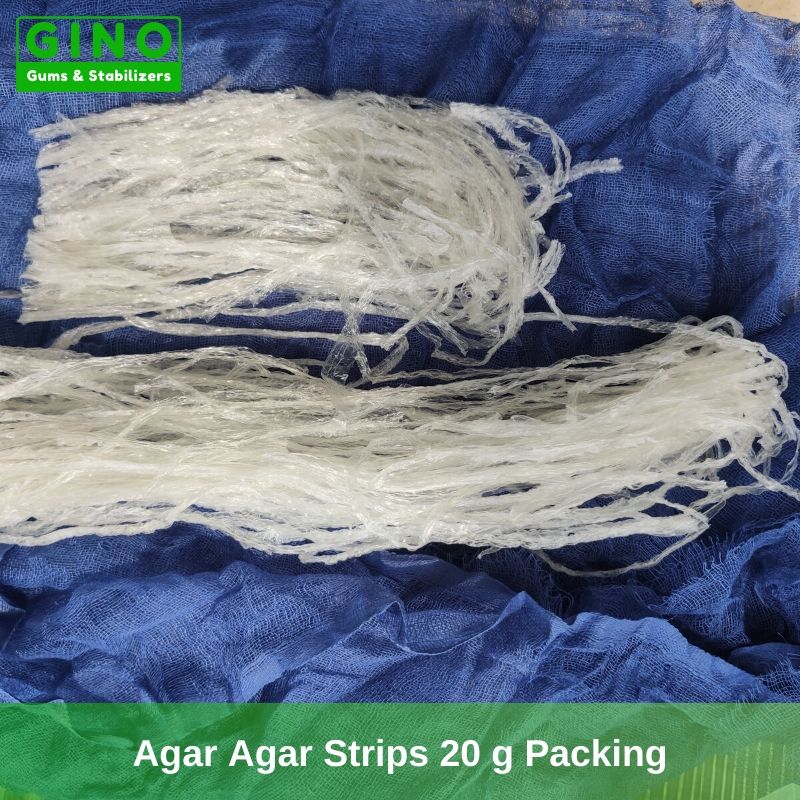 | Category | Thickeners, Stabilizers |
| --- | --- |
| E Number | E406 |
| CAS No. | 9000-70-8 |
| H.S. Code | 1302310000 |
| Origin | China |
| MOQ | 500 KG |
| Packaging | Cartons, Bags, Drums |
| Payment Term | T/T, L/C |
GINO_Your Premier Agar Agar Manufacturer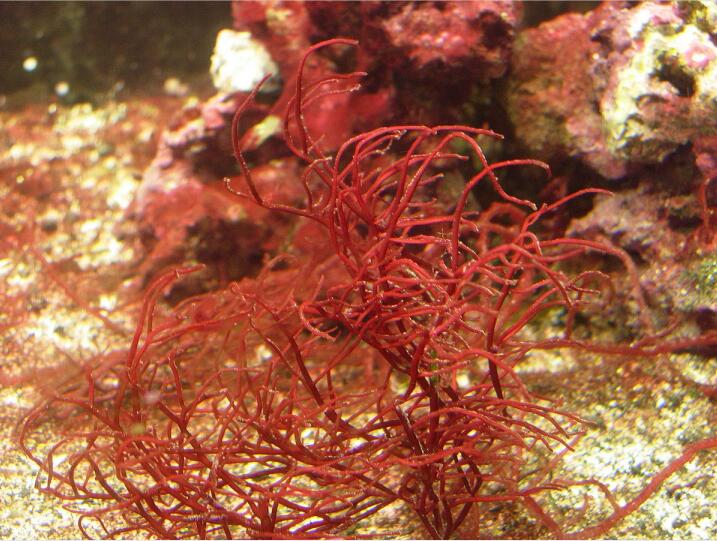 Where is agar agar obtained from?
It is a family of linear galactan polysaccharides obtained from the cellular walls of red seaweeds, Gelidium and Gracilaria are the main species utilised for commercial agar production.
Gelidium species were the original materials used in Japan, but shortages in World War II led to the discovery that Gracilaria species were suitable if the seaweed was treated with alkali during processing.
Gracilaria (or Geldium) → Alkaline leaching → Washing → Bleaching → Boiling gel → Filtering → Pushing strips → Freezing → Dehydrating → Drying → Finished product → Packaging.
Working with us
Choosing Your Right Agar Agar Manufacturer
You will enjoy all grades and forms of agar products, including:
Sensory Characteristics
Appearance
It is strips from with a slightly off white color and neutral odor and taste.
Chemical And Physical Characteristics
Moisture
≤12%
Total Ash
≤5%
Gel Strength(Nikkan Method)
500-700 g/cm2
Ph
5-7
Starch Dextrin
Not Detectable
Gelatin And Other Proteins
Not Detectable
Water Insoluble Matter
≤15%
Heavy Metal
≤1 Ppm
Acid Insoluble Ash
≤0.5 %
Microbiological Characteristics
Total Plate Count
Max 5000 CFU/g
Yeast and Moulds
Max 300 CFU/g
E.Coli
Absent in 5g
Salmonella
Absent in 5g
Remarks:
Specification Sheet is for guidance and reference only. Customer's results may be different due to variations in testing conditions, equipment and methods.
Flexible Packaging Solutions
Custom Logo Packaging
            10 g Neutral                            20 g Red Ribbon               10-1000 g Private Label              10 Kg Neutral
Working with us
Choosing the Right Agar Agar Manufacturer
You will enjoy:
A variety of packaging styles, Flexible loading methods, Small order quantity, Prompt delivery time ...​
Loading Quantity
Packaging
Container
Quantity
Net Weight
10 Kg Pp Woven Bag
1*20' FCL
250 bags
2,500 Kgs
10 g Plastic Bag
250 bags= 250 Bundles *
1,200 Kgs
20 g Plastic Bag
250 bags= 250 Bundles *
1,200 Kgs
Delivery Time
Bulk 10 Kg Packaging
Within 2-3 weeks after the prepayment
Retail Small Packaging
Within 4-6 weeks after the prepayment
Remarks:
If 10 g plastic bag, 1 bundle =10 g * (400-500)=4.0-5.0 kgs;
If 20 g plastic bag, 1 bundle =20 g * (200-250)=4.0-5.0 kgs.
From Packing Design, Packing Material Selection, Packing Printing to Manual packing, Delivery, all in one package service.
Working with us
Choosing the Well-Reputed Shipping Lines
We only choose the well-reputed shipping lines to ensure safety and time. From our warehouse to the destination port, or even to your warehouse, "Full Tracking Service" is always with you.
Great gelling power
Its great gelling power in an aqueous environment allows it to form gels which are more resistant (stronger) than those of any other gel-forming agent, assuming the use of equal concentrations.
No reagents needed
The simple water solution has that gelling power. There is no need to add reagents to produce gelation, such as potassium (or proteins as is necessary with carrageenans), calcium (or other divalent cations as is necessary with alginates). High sugar concentrations or an acid environment (as is necessary with pectins) are not needed.
Wide range of pH
It can be used over a wide range of pH, from 5 to 8, and in some cases beyond these limits. It withstands thermal treatments very well, even above 100°C which allows good sterilization.
Gel Hysteresis
A 1.5% aqueous solution gels between 32°C-43°C and does not melt below 85°C. This is a unique property of agar, compared to other gelling agents.
No cations added
Agar gives gels without flavour and does not need the additions of cations with strong flavours (potassium or calcium), it can be used without problems to gel food products with soft flavours.
Enhances flavours
It assimilates and enhances flavours of products mixed with it and acts as a fragrance-fixer permitting their long term fixation.
Thermoreversible gel
Its gel has excellent reversibility allowing it to be repeatedly gelled and melted without losing any of the original properties.
Transparent gels
Transparent gels that are easily coloured can be obtained whose refractive index can also be easily increased by adding sugar, glucose, glycerine, etc., given them an attractive brightness.
Healthy:
Low in calories, fat, sugar and carbohydrates, but high in soluble fiber;
Vegan:
Seaweed-based gums, the perfect substitute to animal-derived gelatin;
Gel Performance:
Firmer and stronger gel;
Lab Use:
It can not be degraded by the bacteria, so used as the preferable medium used in laboratories to grow bacteria.
Agar Agar was the first hydrocolloid to be used in the human food industry. In the beginning, it was only used in the Far East, but the applications have been extending all over the world for more than a century.
The FAO/WHO Codex Alimentarius permits the use of agar in the human food industry and it has also been accepted and authorized by the regulations of the more exacting countries such as United Kingdom, Federal Republic of Germany, Russia, France and Poland. The Food and Drug Administration (FDA) of the United States assigns agar as a grading of GRAS (Generally Recognised as Safe).
Agar applications in the food industry are based on its special characteristics and the most important applications are the following.
In confectionery, to prepare jellies, marshmallows and candies or candy fillers.
In marmalade production, agar is used as a thickening and gelling agent.
Mitsumune production in Japan is very important; this is a fruit salad mixed with agar gel cubes, duly coloured, salted and flavoured with fruit flavour. The agar used for this kind of fruit salad must allow the cans to be sterilized without the cubes melting or losing their corners or edges. For this purpose, certain types of Gelidium agar are used.
In the bakery, agar is used to cover cakes, in icing doughnuts, and when it is applied to chocolate it allows a good adherence to the base without cracking. In general, agar is utilized to prevent dehydration of these confectionery products.
Agar is also important in fruit jelly preparations. When compared with pectin, agar has the advantage of not needing high sugar concentrations to form a gel.
Its application in yoghurt is also very important especially when consumers started to require less acid products and, therefore, casein cannot contribute to the maintenance of the product consistency, as it previously did.
In the meat industry, and especially in the preparation of soft boiled sausages, its use has permitted the reduction of fat content that acted before as bonding. Today the industry is trying to limit fat content in order to reduce cholesterol.
Agar is also used on a large scale in canned products like "scatola" meat (beef blocks in gelatin) - very popular in Italy, or chicken in gelatin - very common in Canada, cow tongue in gelatin -selling well in Denmark, lamb tongue in Australia, or other different types of meat and fish aspics. In dressings and extracts, it is used as a thickener and stabilizer.
In smaller quantities, agar is used to increase the viscosity of some alcoholic liquors.
We focus our main attention on various kinds of high quality Hydrocolloids and Stabilizing systems.
Need to find reliable E406 Agar Agar manufacturer, suppliers, exporters in China? As one agar company, all grades and forms of agar products could be provided by Gino. We could help you find the perfect agar agar for your application.
Please complete fields below to get the latest bulk wholesale agar agar price. 
Your Reliable Agar Agar Manufacturer!!!