Agar Agar is a hydrocolloid extracted from red seaweeds that is widely used in the food industry and in certain scientific and industrial applications.
As one professional agar company in China, we have been supplying and exporting Agar Agar 800 bulk wholesale for ten years. With our variety of Gelling / Stabilizing systems, we can create tailor-made solutions perfectly matched to the needs of our customers.
Contact us to ask about a single hydrocolloid gum or food stabilizers (blends & systems) that would work for your products. Should you have any questions please feel free to send an email to info@gumstabilizer.com.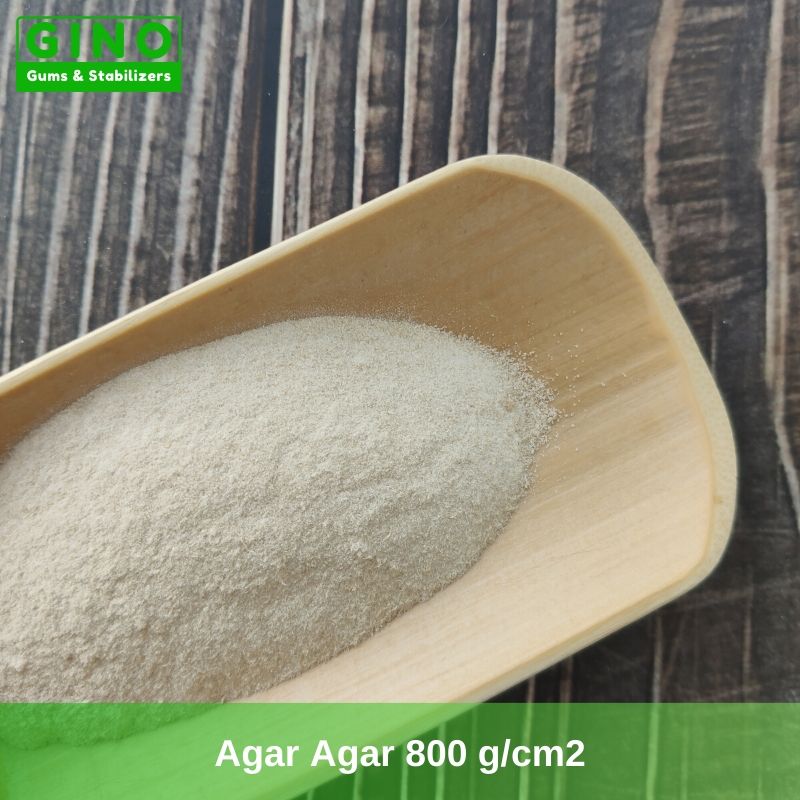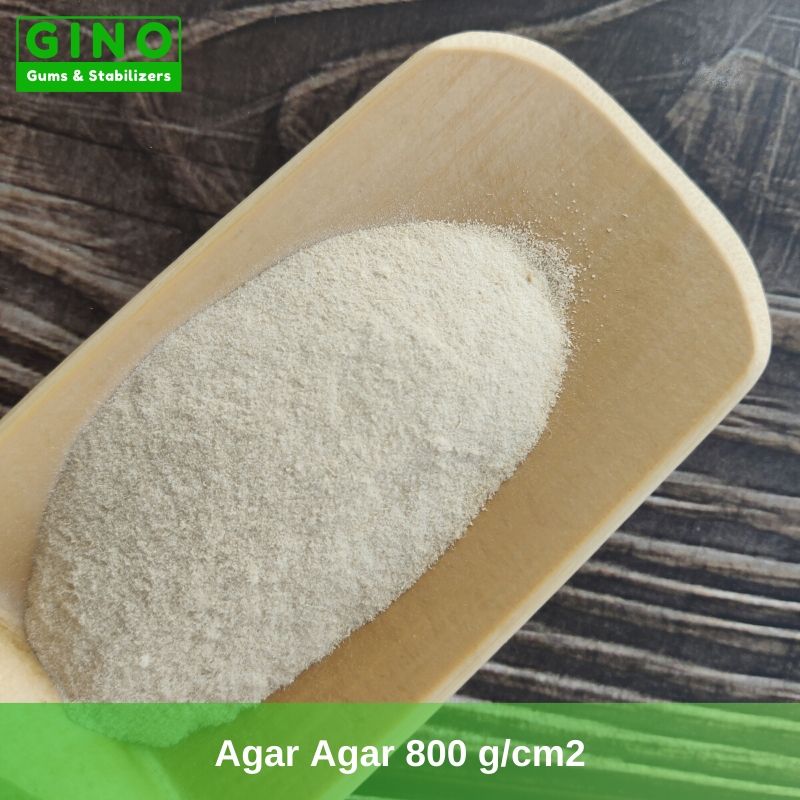 | Category | Thickeners, Stabilizers |
| --- | --- |
| E Number | E406 |
| CAS No. | 9000-70-8 |
| H.S. Code | 1302310000 |
| Origin | China |
| MOQ | 500 KG |
| Packaging | Cartons, Bags, Drums |
| Payment Term | T/T, L/C |
Working with us
| Choosing YOUR right agar company
You will enjoy all grades and forms of agar products, including:
Sensory Characteristics
Appearance
It is a fine powder with a slightly off white color and neutral odor and taste.
Chemical And Physical Characteristics
Moisture
≤12%
Total Ash
≤5%
Gel Strength(Nikkan Method)

800 g/cm2

Ph
5-7
Mesh Size
80-100
Starch Dextrin
Not Detectable
Gelatin And Other Proteins
Not Detectable
Water Insoluble Matter
≤15%
Heavy Metal
≤1 Ppm
Acid Insoluble Ash
≤0.5 %
Microbiological Characteristics
Total Plate Count
Max 5000 CFU/g
Yeast and Moulds
Max 300 CFU/g
E.Coli
Absent in 5g
Salmonella
Absent in 5g
Loading Quantity - Agar Agar Powder
Packaging
Container
Quantity
Net Weight
PP Woven Bag
1*20' FCL
640-720 Bags
16-18 MT
Kraft Paper Bag
640-720 Bags
16-18 MT
Carton Box
540 Boxes With Pallets
13.5 MT
600 Boxes Without Pallets
15 MT
Drum
320 Drums With Pallets
8 MT
400 Drums Without Pallets
10 MT
Square Tin
1,000 Tins With Pallets
10 MT
1,200 Tins Without Pallets
12 MT
Delivery Time - Agar Agar Powder
Bags or Carton  Packaging
Within 2-3 weeks after the prepayment
Drum or Tin Packaging
Within 4-6 weeks after the prepayment
Confectionery

Marmalade

Fruit Salad

Bakery

Jelly

Yoghurt

Meat

Canned Food

Drinks & Beverages
In confectionery, to prepare jellies, marshmallows and candies or candy fillers.
In marmalade production, agar is used as a thickening and gelling agent.
Mitsumame production in Japan is very important; this is a fruit salad mixed with agar gel cubes, duly coloured, salted and flavoured with fruit flavour. The agar used for this kind of fruit salad must allow the cans to be sterilized without the cubes melting or losing their corners or edges. For this purpose certain types of Gelidium agar are used.
In bakery, agar is used to cover cakes, in icing doughnuts, and when it is applied to chocolate it allows a good adherence to the base without cracking. In general agar is utilized to prevent dehydration of these confectionery products.
Agar is also important in fruit jelly preparations. When compared with pectin, agar has the advantage of not needing high sugar concentrations to form a gel.
Its application in yoghurt is also very important especially when consumers started to require less acid products and, therefore, casein cannot contribute to the maintenance of the product consistency, as it previously did.
In the meat industry, and especially in the preparation of soft boiled sausages, its use has permitted the reduction of fat content that acted before as bonding. Today the industry is trying to limit fat content in order to reduce cholesterol.
Agar is also used on a large scale in canned products like "scatola" meat (beef blocks in gelatine) - very popular in Italy, or chicken in gelatine - very common in Canada, cow tongue in gelatine -selling well in Denmark, lamb tongue in Australia, or other different types of meat and fish aspics. In dressings and extracts it is used as a thickener and stabilizer.
In smaller quantities, agar is used to increase the viscosity of some alcoholic liquors.
We focus our main attention on various kinds of high quality Hydrocolloids and Stabilizing systems.
Need to find reliable E406 agar agar manufacturers, suppliers, exporters in China? Gino is an experienced agar agar company in China Mainland, and almost all grades and forms of agar products could be provided by us. We could help you find the perfect agar agar for your application.
Please complete fields below to get the latest agar wholesale price.
Your Reliable Agar Agar Company!!!