Plant-Based Meat Stabilizers | Vegan Thickeners
Plant-based meat, also called Vegetarian meat, Vegan meat, is a type of artificial meat.
It is mainly made from vegetable proteins extracted from soybeans, peas, wheat and other crops. By using chemical separation, plant proteins required by the human body are extracted from the raw materials, and then heated, extruded, cooled and shaped in a series of steps to give it the texture and taste of animal meat products.
Through extrusion texturing (dry and wet) technology, the protein is modified under the action of physical fields such as thermal shear and pressure. The molecular chains are oriented and re-crosslinked. So that it has the texture and taste of animal meat products, such as vegetable steak.
Why Choose Plant-Based Meat?
Especially some vegetarian products are even more expensive than the real products, such as the vegan fried egg, so people may have a question, why choose vegetarian meat?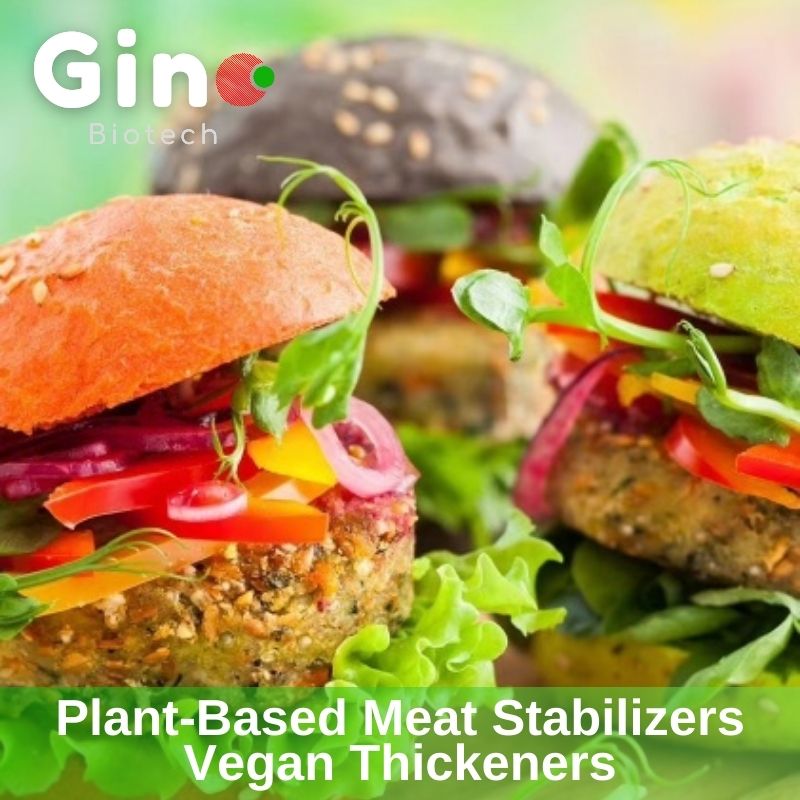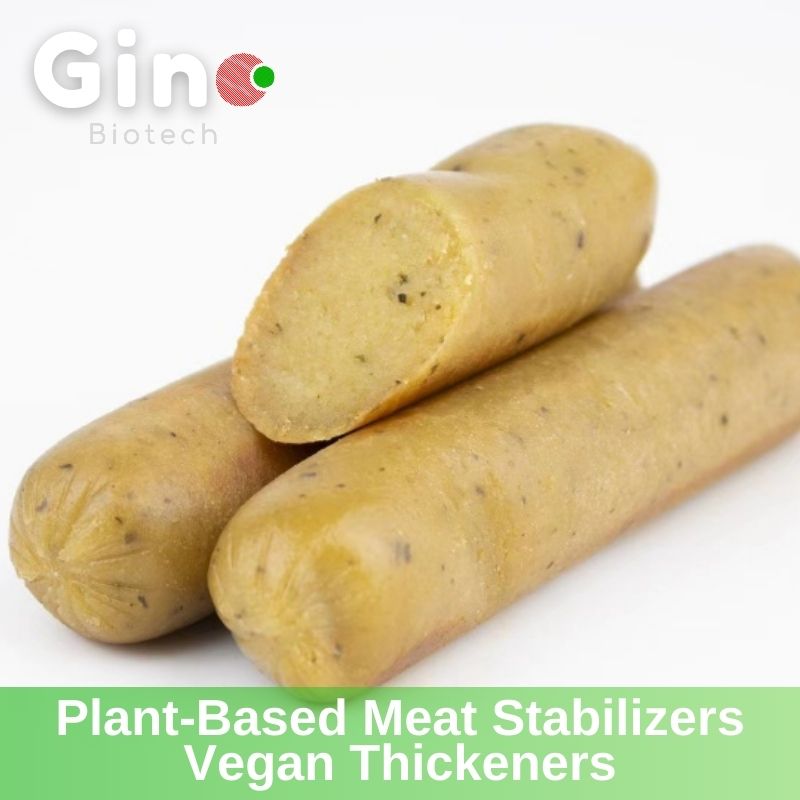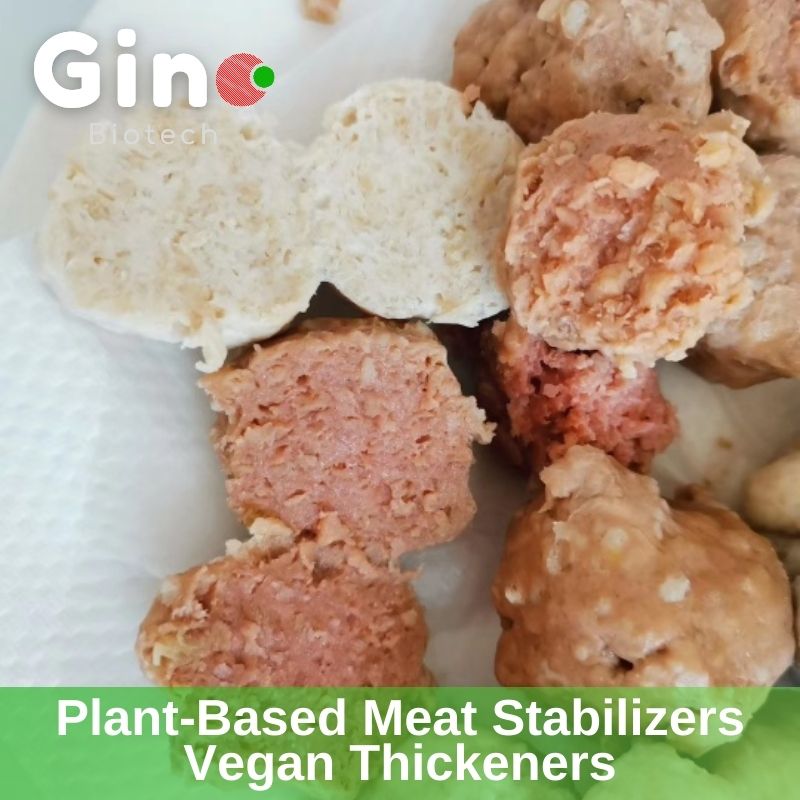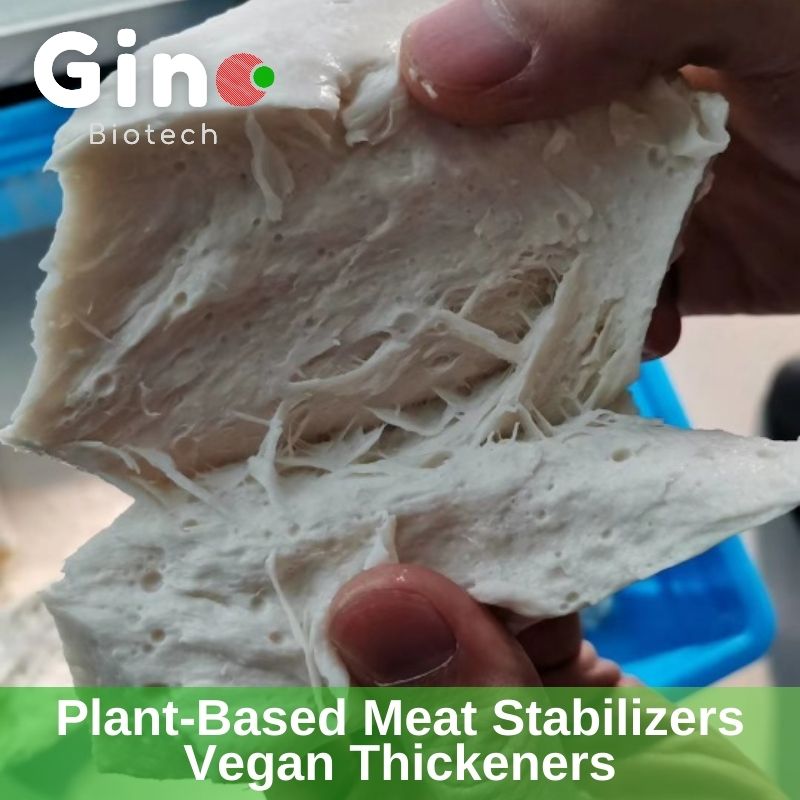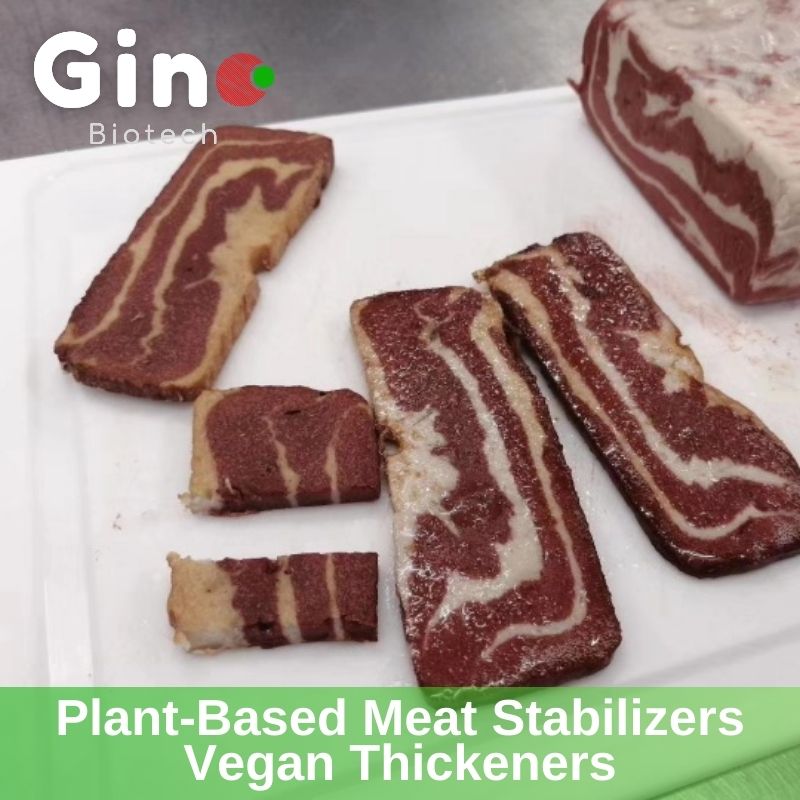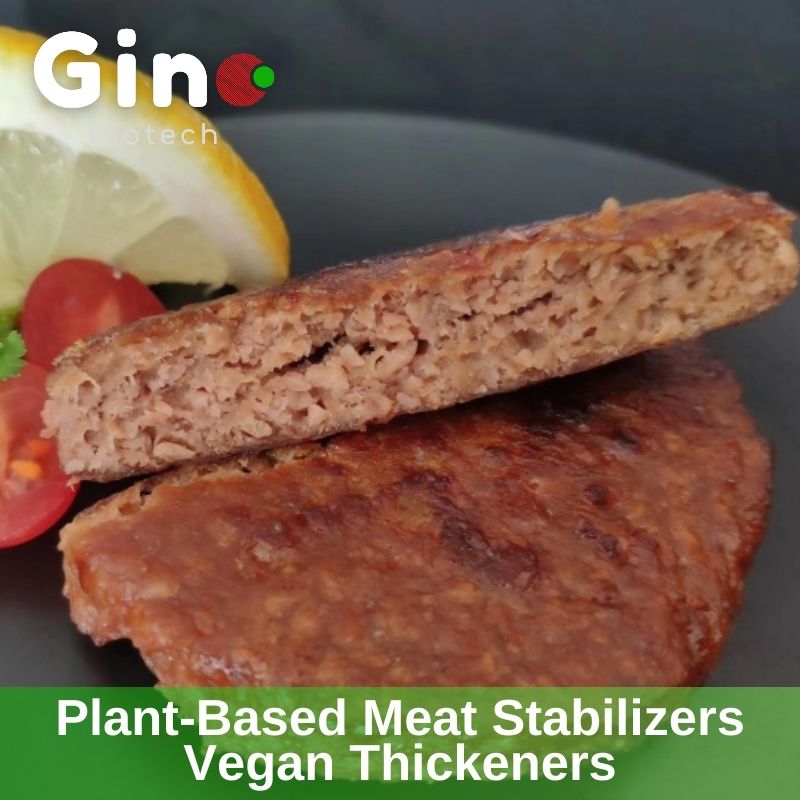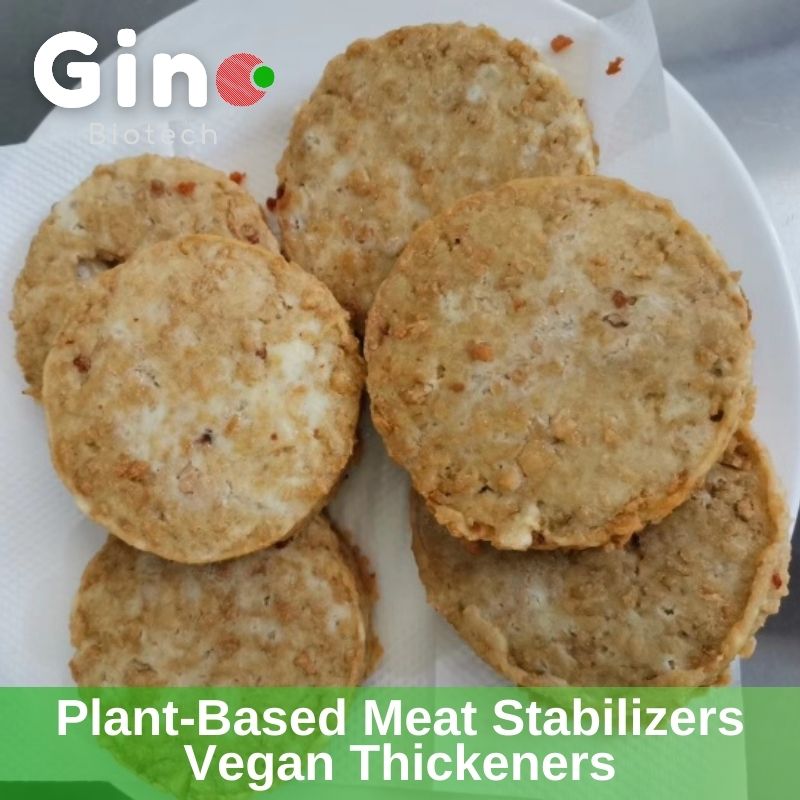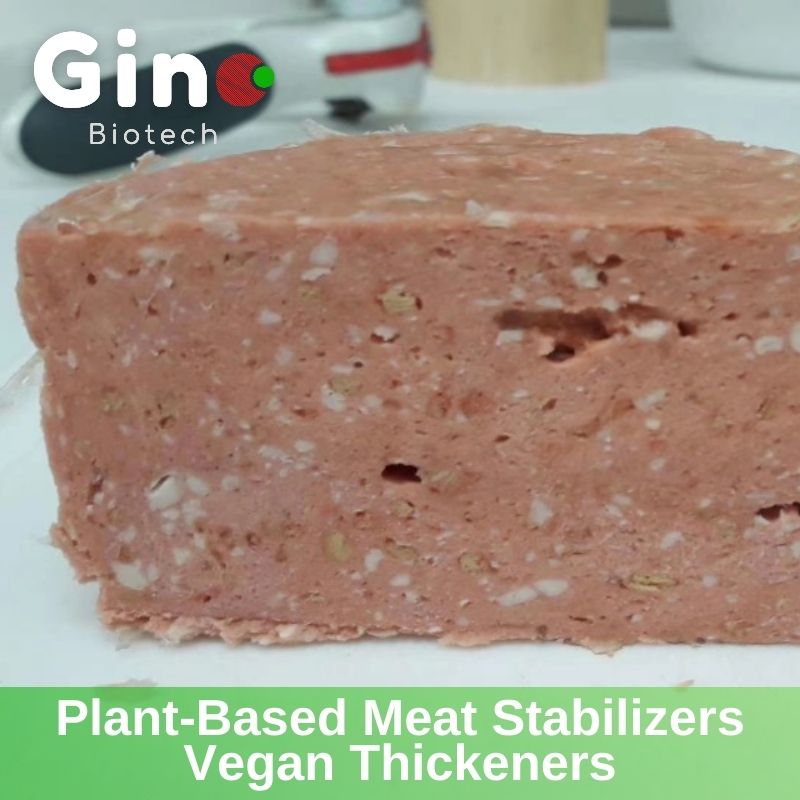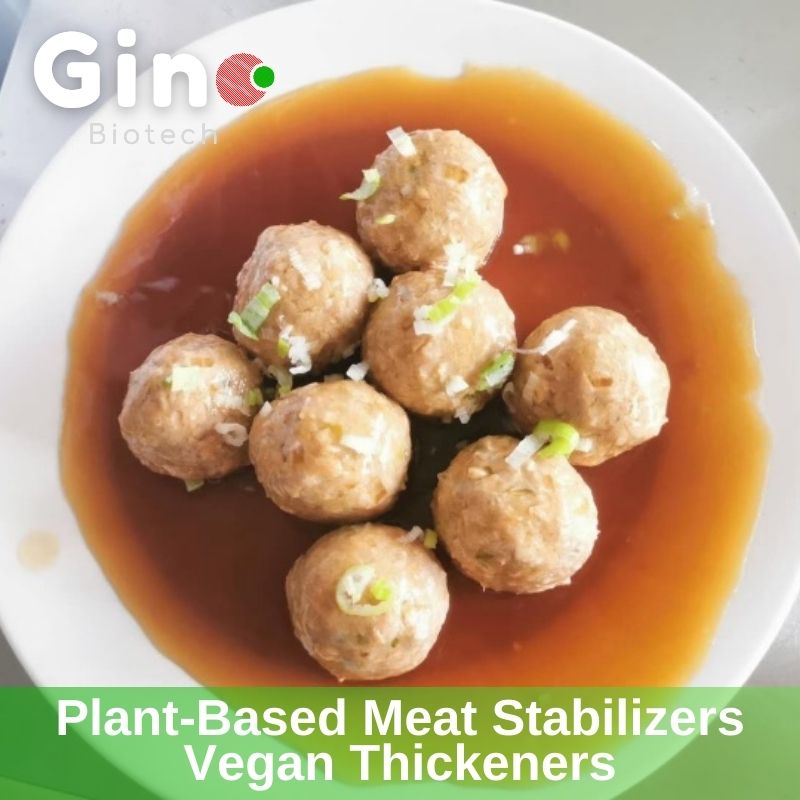 Plant-Based Meat Stabilizers | Vegan Thickeners
| Category | Stabilizers, Thickeners |
| --- | --- |
| H.S. Code | 1302399090 |
| Origin | China |
| MOQ | 500 KG |
| Packaging | Cartons, Bags, Drums |
| Payment Terms | T/T, L/C |
| Customized Service | Available |
We will reply your inquiry
Within 12 hours
Instructions of Plant-Based Meat Stabilizers | Vegan Thickeners
Our plant-based meat stabilizers are made of selected natural vegan hydrocolloids and other thickeners and additives. The production process is simple and convenient and the finished product is very similar to real meat in terms of texture(structure), color, taste, mouth-feel, etc.
These vegan thickeners provide a more natural and healthier guarantee in chewing with the fat feeling of real meat.
They have the following advantages:
Easier to store, No cholesterol, High protein, High fiber, No trans fatty acids, etc.
We provide our customers with advanced vegetarian thickeners and technical support, as long as the best-customized solutions according to their needs. Our products could be widely used in making the following products. 
Use Level, Recipe Recommendation?
10:15:43:16:16 (reference ratio, can be adjusted appropriately)
Vegan Thickeners
Oil
Ice Water
Soy Protein

Water

(for protein with water)

10
15
43
16
16
How to Make Plant-Based Meat?
General Production Flow of Plant-Based Meat Products: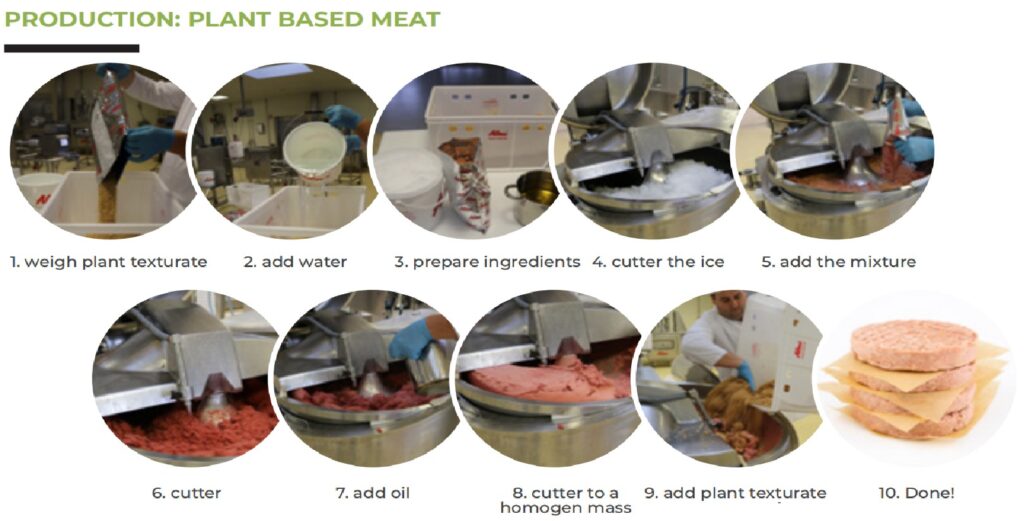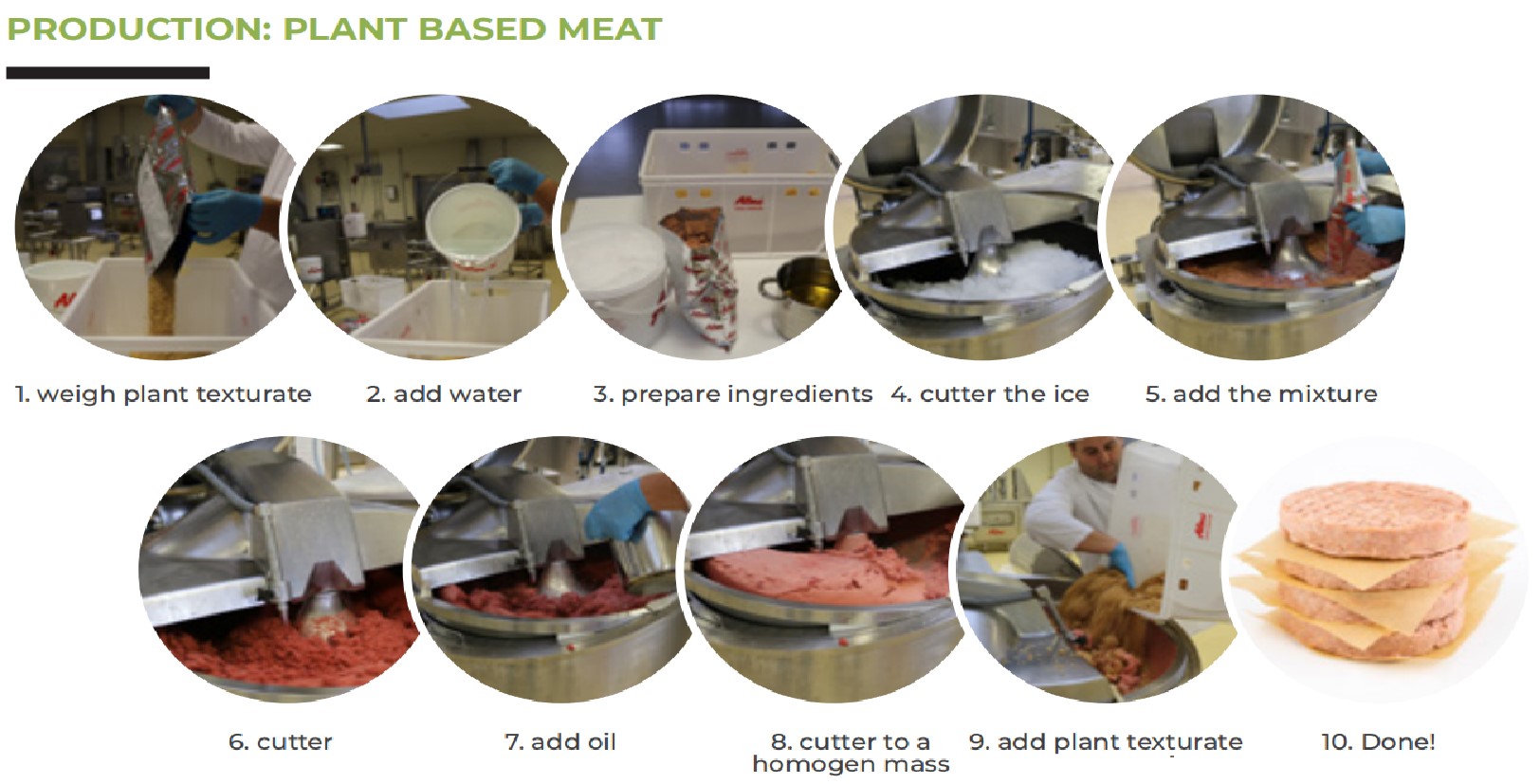 First, add soy protein at a ratio of 1:1 with water for 30 minutes;
Clean and cool the chopper until it is ≤0℃;
Add ice water to the chopper, add vegan thickeners, chop at low speed, always observe the temperature, not higher than 2°C;
When the temperature is close to or reaches 2°C, add oil and chop at a high speed of 4000 rpm;
When the temperature reaches 8°C, add soy protein with water, chop and mix at low speed, observe the particle size of the protein, when the particle size is appropriate, turn the chopper knife upside down and mix at low speed;
Mold shaping;
Pre-frying: Pre-frying at 170°C for 1 minute;
Packing and freezing.
①Oven at 160℃ and the core temperature reaches 72℃;
②Fry at 170℃, and the core temperature will reach 72℃.
It is recommended that in the third step, try to increase the ratio of ice to ice water, so as to ensure that the temperature of the mixture of ice water and ingredients is less than 2°C. If the temperature is greater than 2°C, the mixture cannot reach sufficient viscosity;
If the tissue condition is not good after adding oil, you can continue to chop, and then add water protein when the temperature reaches 11℃;
Use a vacuum chopper to improve the toughness of the product.
Working with us | Choosing the Right Vegan Thickeners Suppliers
You will enjoy:
A variety of packaging styles, Flexible loading methods, Small order quantity, Prompt delivery time ...​
Flexible Packaging Solutions | Custom Packaging
Give your promotional marketing efforts a boost with flexible packaging solutions that stands out from your competition.
Customized Solutions | Technical Services
Besides the above exiting plant-based meat stabilizer products, we could also provide diversified product application technical services as per the production, technique, formula, goal and other requirements of the clients.
So, tell us about all your needs and let us be your food stabilizers solutions providers.
All of our vegan thickeners products are produced in GMP & HACCP certified plants and are all Halal and Kosher certified, so they can fully meet the religious requirements.
Most of our cooperative factories have gained the ISO 9001, ISO 22000, BRC or FSSC 22000 certification.
We keep improving our quality management and credibility management systems and ensure our compliance with relevant international and domestic quality standards and credibility standards as well as the food safety requirements of the UNFAO, EU and the USA.

We focus our main attention on various kinds of high-quality Hydrocolloids and Stabilizing systems.
No matter who you are, we could help you find the perfect gums for your application, let us be your vegan thickeners supplier from China.
So, please complete the fields below to get the latest price.