Vegan Shrimp Ingredients
Plant-Based Shrimp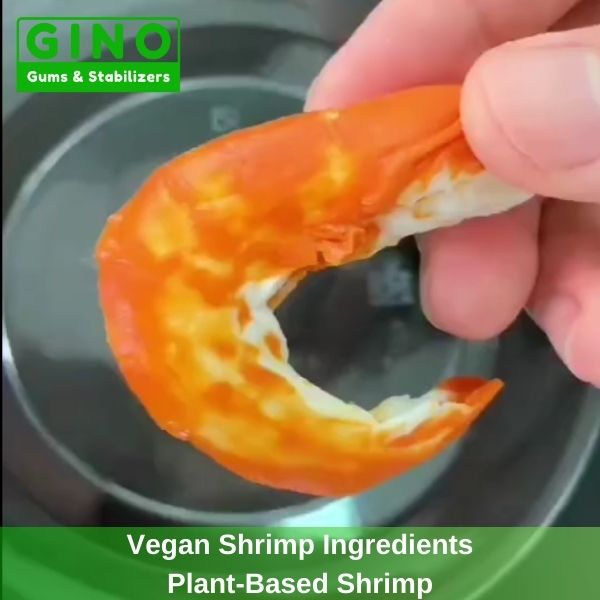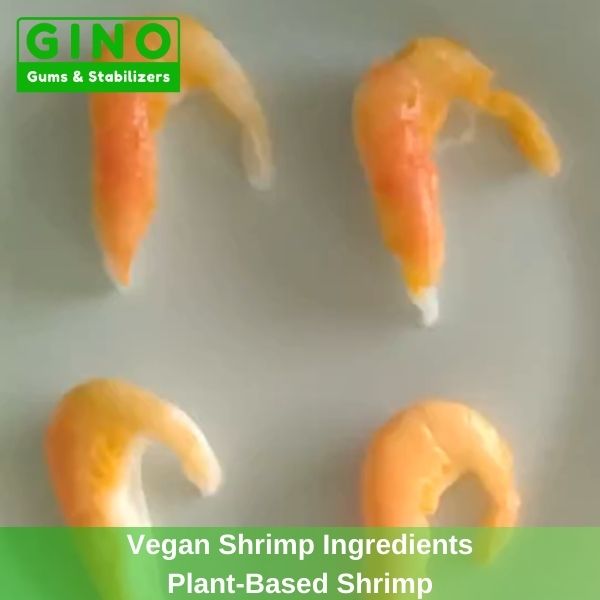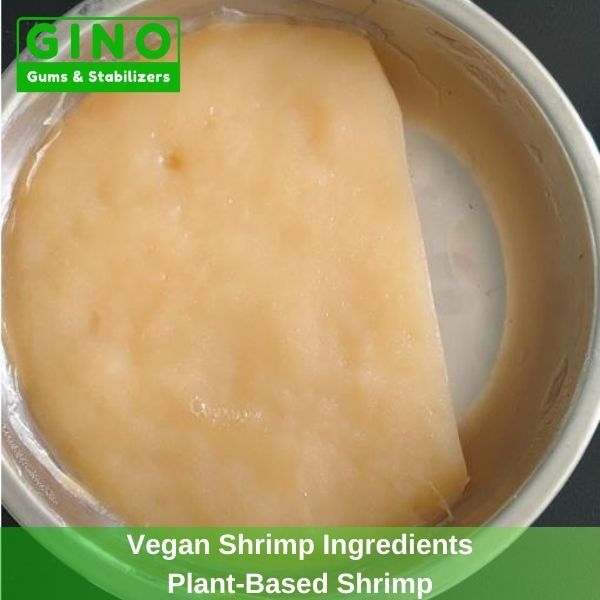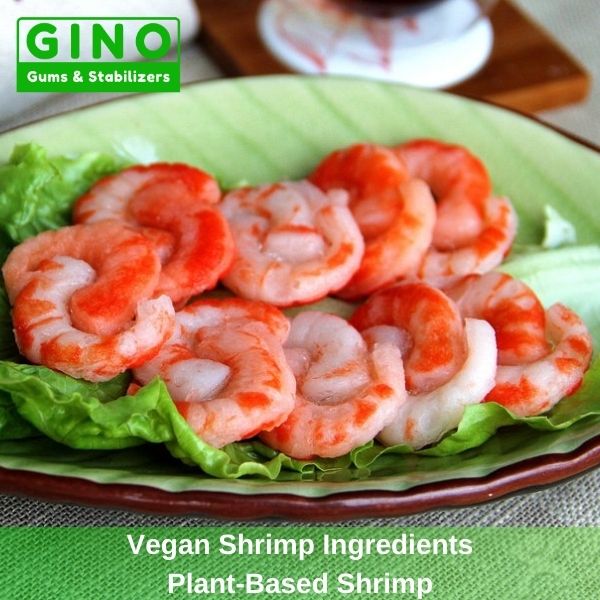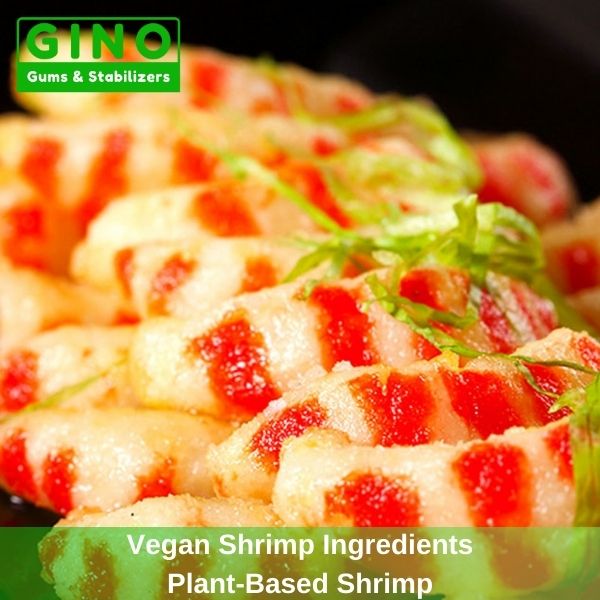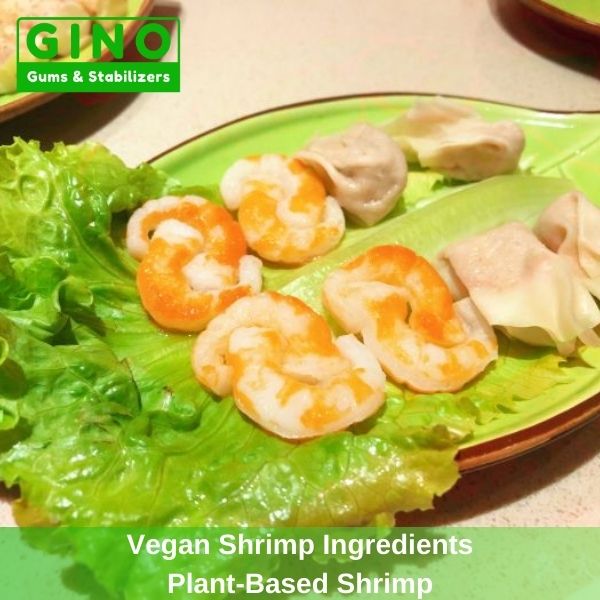 Vegan Shrimp Ingredients | Plant-Based Shrimp
| Category | Stabilizers, Thickeners |
| --- | --- |
| H.S. Code | 1302399090 |
| Origin | China |
| MOQ | 500 KG |
| Packaging | Cartons, Bags, Drums |
| Payment Terms | T/T, L/C |
| Customized Service | Available |
We will reply your inquiry
Within 12 hours
Seafood can be divided into fish, shrimp, shellfish, and squid and other mollusks. Most of the seafood products reflect the Q-tip and fresh taste after cooking.
Vegan shrimp is made from Konjac, seaweed-based hydrocolloids, its look, mouthfeel, and apparently taste like the real shrimp.
The konjac is a good raw material to replicate the texture of seafood, Q texture with some hydrocolloid mix, can achieve a similar texture to squid rolls, or shrimp-like texture. Fish is a bit more complicated, in order to restore the tender texture of the fish requires the addition of soybean protein or other legume proteins.
Introduction of Our Vegan Shrimp Ingredients
Our vegan shrimp ingredients, also called vegetarian shrimp compound thickeners are compounded with selected hydrocolloids, such as konjac gum or sodium alginate and other ingredients, which are specially used for vegetarian seafood products, especially the plant-based shrimp.
Two Major Systems of Our Vegan Shrimp Ingredients
1.
Vegan Shrimp Ingredients with Konjac System
Simply put, the main ingredient is konjac gum
2.
Vegan Shrimp Ingredients with Sodium Alginate System
Sodium alginate can form thermally irreversible gels and therefore can also be used as a raw material for vegetarian shrimp.
Advantages and Disadvantages
Advantages

Firm structure, elastic and with brittleness.

Good resistance to freeze-thaw stability.

Disadvantages

The slurry is thick and has relatively weak flowability.

Slightly alkaline odor, but can be masked by seasonings.
Advantages

Thin pulp, good flow, easy to pour the mold.

White color of pulp, good color and luster.

Disadvantages

Average stability against freezing and thawing.

need to control the pouring time, more than a certain time, it is impossible to complete the pouring mold after the gel is formed.

Hardness and elasticity is not as good as konjac gum system
1: 22-25: 2-5 (reference ratio, can be adjusted appropriately)
| | | |
| --- | --- | --- |
| Our Vegan Shrimp Ingredients | Water | Starch |
| 1 | 22-25 | 2-5 |
Weighing: Compound powder: Water: Starch = 1: 22-25: 2-5, weigh the sample in this ratio.
Chopping: Turn on the chopping machine, adjust the chopping knife at medium-low speed, add the compound powder evenly into the chopping machine with 5-8℃ ice water, chopping 4-5min until the slurry is sticky, then add the starch and chop it evenly.
Pouring mold: Use a pump to inject the slurry into the mold, and evacuate it, the purpose is to make the slurry without air holes inside.
Cooking: Use the steamer to steam at 80-95℃ until fully cooked.
Demolding and Coloring: Remove the sample from the mold, and brush the color on the surface of the vegetarian shrimp once removed.
Quick-freezing: Quick-freeze the vegetarian shrimp with a quick-freeze line or quick-freeze storage (center temperature -18 ℃), the sensory performance is frozen hard.
Made into frozen pre-packaged food for home or restaurant consumption, thawed - steamed or fried - add seasonings, and enjoy the delicious.
Seafood allergies, gout, and vegetarianism are all important drivers for the growth of plant-based seafood in Europe and the US as well as in the Chinese market.
Other Food Stabilizers Products
Working with us | Choosing the Right Vegan Shrimp Ingredients Supplier
You will enjoy:
A variety of packaging styles, Flexible loading methods, Small order quantity, Prompt delivery time ...​
Flexible Packaging Solutions | Custom Packaging
Give your promotional marketing efforts a boost with flexible packaging solutions that stands out from your competition.
Customized Solutions | Technical Services
Besides the above exiting products, we could also provide diversified product application technical services as per the production, technique, formula, goal and other requirements of the clients.
So, tell us about all your needs and let us be your food stabilizers solutions provider.
All of our vegan shrimp ingredients are produced in GMP & HACCP certified plants and are all Halal and Kosher certified, so they can fully meet the religious requirements.
Most of our cooperative factories have gained the ISO 9001, ISO 22000, BRC or FSSC 22000 certification.
We keep improving our quality management and credibility management systems and ensure our compliance with relevant international and domestic quality standards and credibility standards as well as the food safety requirements of the UNFAO, EU and the USA.

We focus our main attention on various kinds of high-quality Hydrocolloids and Stabilizing systems.
No matter who you are,  we could help you find the perfect gums for your application, let us be your vegan shrimp ingredients supplier from China.
So, please complete the fields below to get the latest price.