Vegan Gummies Stabilizers
Gummies Ingredients
Traditional gummies are made from a mixture of sugar, glucose syrup, starch, flavorings, food coloring, citric acid and gelatin. However, recipes for gummies vary widely, such as vegan candy or organic candy for vegetarians or others following religious dietary laws.
As time goes by, more and more hydrocolloids gums and compounding stabilizers are used in the production of gummies. Examples are agar-agar, carrageenan, pectin, gellan gum, and various compounded gummies stabilizers.
They play an increasingly important role as indispensable gummies ingredients in the production of modern candies.
Compared to gelatin, these gummies ingredients are more suitable for the production of vegetarian gummies.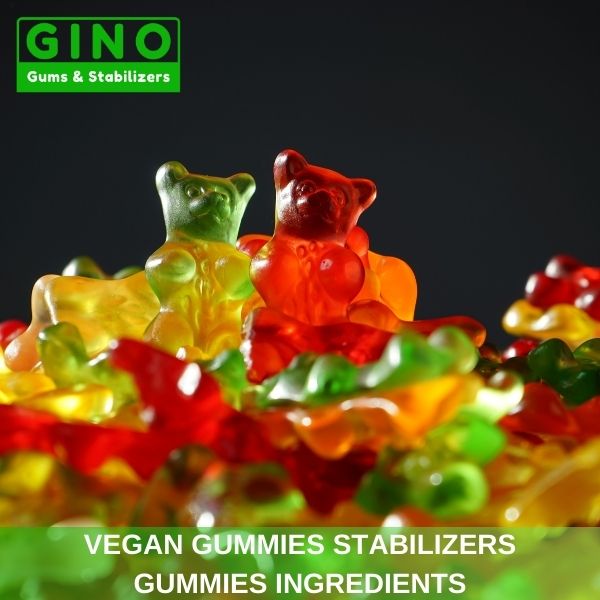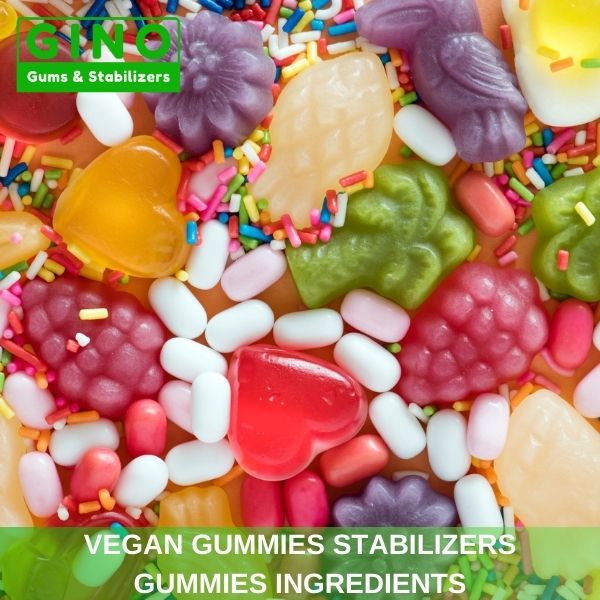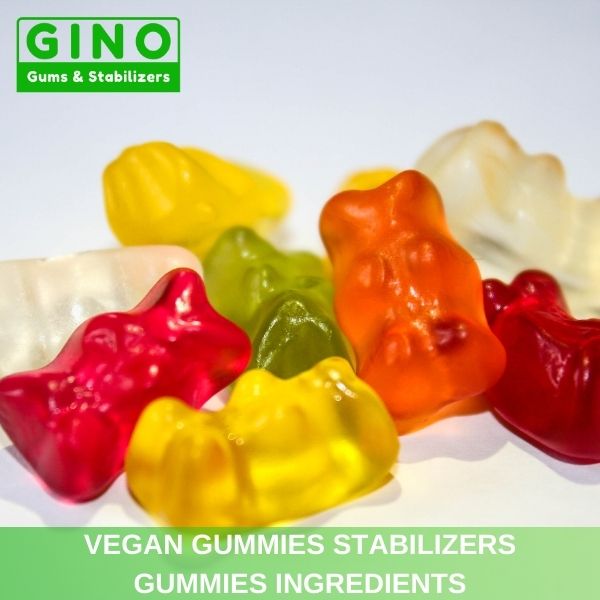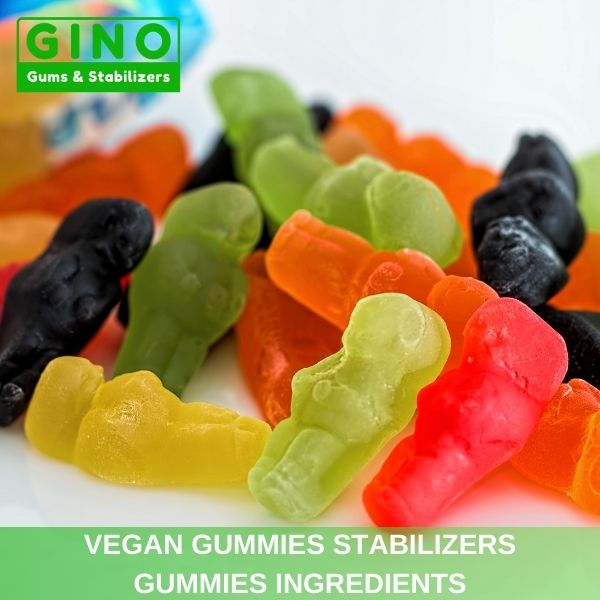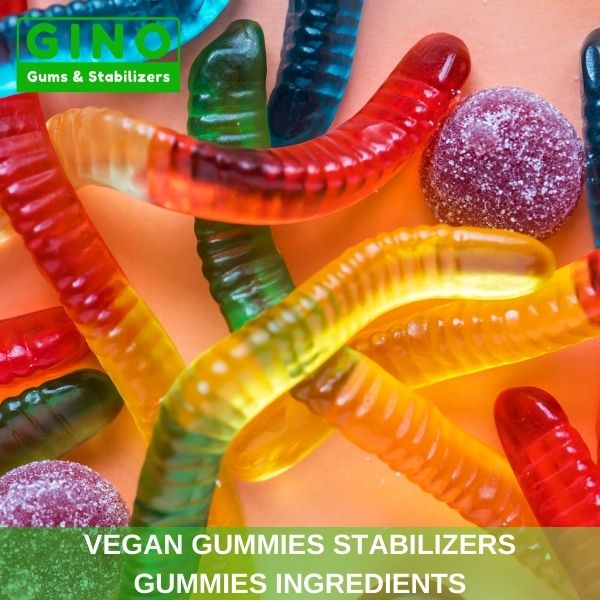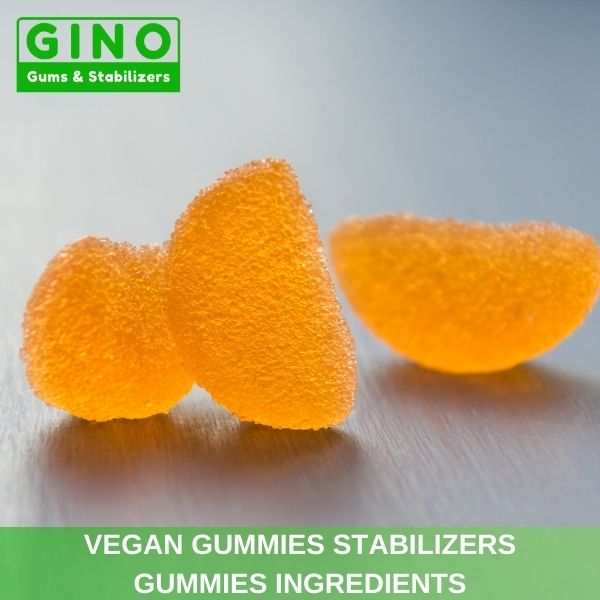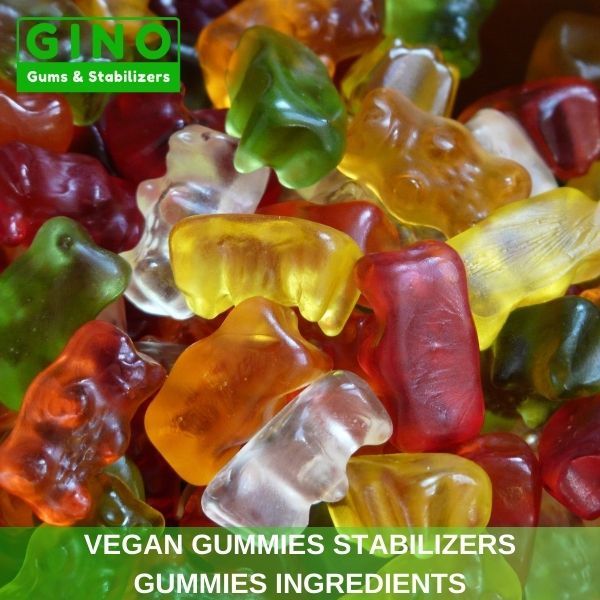 Vegan Gummies Stabilizers | Gummies Ingredients
| Category | Stabilizers, Thickeners |
| --- | --- |
| H.S. Code | 2106909090 |
| Origin | China |
| MOQ | 500 KG |
| Packaging | Cartons, Bags, Drums |
| Payment Terms | T/T, L/C |
| Customized Service | Available |
We will reply your inquiry
Within 12 hours
Our 4 Vegan Gummies Stabilizers Products
We have developed multiple series of blended food stabilizers for use in vegan gummies. Gino is your premier vegan gummies ingredients supplier who works directly with you to provide customized solutions.
Our vegan gummies stabilizers can be broadly divided into the following 4 types
1.
General gummies stabilizers powder
Suitable for both machine operation and handmade, contributes to an elastic mouth-feel and high transparency
2.
Acid stable gummies stabilizers powder
Contribute to a pulpy mouth-feel, with good acid stability and high water retention
3.
Neutral vegetable gummies stabilizers powder
4.
Crystal gummies stabilizers powder
Contributes to a unique juicy mouth-feel and high water retention, which is deformation resistant under high temperature
6 Major Product Families/Series
Suitable for making tangerine segments gummy candy, strawberry gummy candy, mango fleshy gummy candy
Features:
Hard Q texture, suitable for fleshy fruit flavors, good chewiness and good bite off.
Good flavor release
Good acid resistance, acid resistance 0.6-1.2%.
Good flowability, suitable for pouring and molding, can be produced by starch mold
Can be suitable for canned products.
Suggested addition amount 1.8-2.0%.
Dissolving method: mix with sugar and stir with cold water
Suitable for making blackcurrant flavored soft candy, corn soft candy, cola-flavored soft candy
Features:
Hard or soft Q feeling in taste, similar to gelatin fondant taste.
Good bite off property.
Can be produced by starch mold.
Acid resistant 0.6-1.2%.
Recommended addition amount: 1.8%-2.0%.
Dissolution method: It is recommended to mix sugar and then stir with cold water at high speed.
Suitable for making orange fruit cake, dual-color fruit cake, passion fruit cake, etc.
Features:
The taste is soft Q feeling, smooth bite surface
Recommended addition of 2.0-2.5%.
Medium acidity jam is added together with colloid when boiling, the jam is safer after boiling.
Good fluidity of the product, suitable for moulding, pouring and plate reversing.
Suitable for making dual-color fruit cakes with good double-layer adhesion effect.
No added preservatives, flavors, colors. Natural color and flavor.
Can add additional acid 0.6-1.2%.
Dissolving method: mix sugar and stir with cold water
Suitable for all kinds of high transparency mixed flavor soft candy
Features:
Suggested addition amount 1.8-2.0%
Agar taste.
Fast gelation speed relative to ordinary agar.
Acid resistance 0.6-1.2%.
Dissolution method: add cold water and stir.
Good transparency.
Suitable for all kinds of filled flavor soft candy
Features:
The filling position is right in the middle and the percentage of filling is about 18%.
The outer layer is Q feeling, chewing resistance, strong jam feeling, good flavor release.
Good fluidity, semi-fluid filling.
Acid resistance of 0.6-1.5%, possibility of adding juice or functional ingredients.
Non-sticky, can be bagged or canned.
Suggested addition amount 1.8% for crust and 1.0% for sandwich
Suitable for chocolate coated gummies or other mix and match gummies
Features:
Suggested addition 1.8%.
Good flowability, can add soft candy granules.
Soft and sticky mouthfeel, with a jam-like texture, good bite and no sticky teeth
Good flavor release
Acid resistance 0.6-1.5%.
Not sticky, not watery
Good combination with chocolate, can be coated with chocolate, will not cause chocolate mold
Dissolving method: mix with sugar and stir with cold water.
Suitable for pouring, molding.
Other Food Stabilizers Products
Working with us | Choosing the Right Gummies Ingredients Suppliers
You will enjoy:
A variety of packaging styles, Flexible loading methods, Small order quantity, Prompt delivery time ...​
Flexible Packaging Solutions | Custom Packaging
Give your promotional marketing efforts a boost with flexible packaging solutions that stands out from your competition.
Customized Solutions | Technical Services
Besides the above exiting products, We could also provide diversified product application technical services as per the production, technique, formula, goal and other requirements of the clients.
So, tell us about all your needs and let us be your food stabilizers solutions providers.
All of our products are produced in GMP & HACCP certified plants and are all Halal and Kosher certified, so they can fully meet the religious requirements.
Most of our cooperative factories have gained the ISO 9001, ISO 22000, BRC or FSSC 22000 certification.
We keep improving our quality management and credibility management systems and ensure our compliance with relevant international and domestic quality standards and credibility standards as well as the food safety requirements of the UNFAO, EU and the USA.

We focus our main attention on various kinds of high-quality Hydrocolloids and Stabilizing systems.
No matter who you are, we could help you find the perfect gums for your application, let us be your plant-based gummies ingredients supplier from China.
So, please complete the fields below to get the latest price.