Best E440 LMA Citrus Pectin - Low Methoxyl Pectin Suppliers in China
Pectin is a natural plant-based hydrocolloid found in fruits, and, Apple pectin is a type of soluble fiber found naturally in apples. Importantly, it is used in food as a gelling agent, particularly in jams and jellies.
As one of the professional low methoxyl pectin suppliers, exporters in China, Gino is dedicated to supplying superior pectin products from reliable citrus pectin manufacturers. Meanwhile, we can offer tailor-made solutions perfectly matched to your needs.
Contact us to ask about a single hydrocolloid gum or food stabilizers (blends & systems) that would work for your products. Should you have any questions please feel free to send an email to [email protected].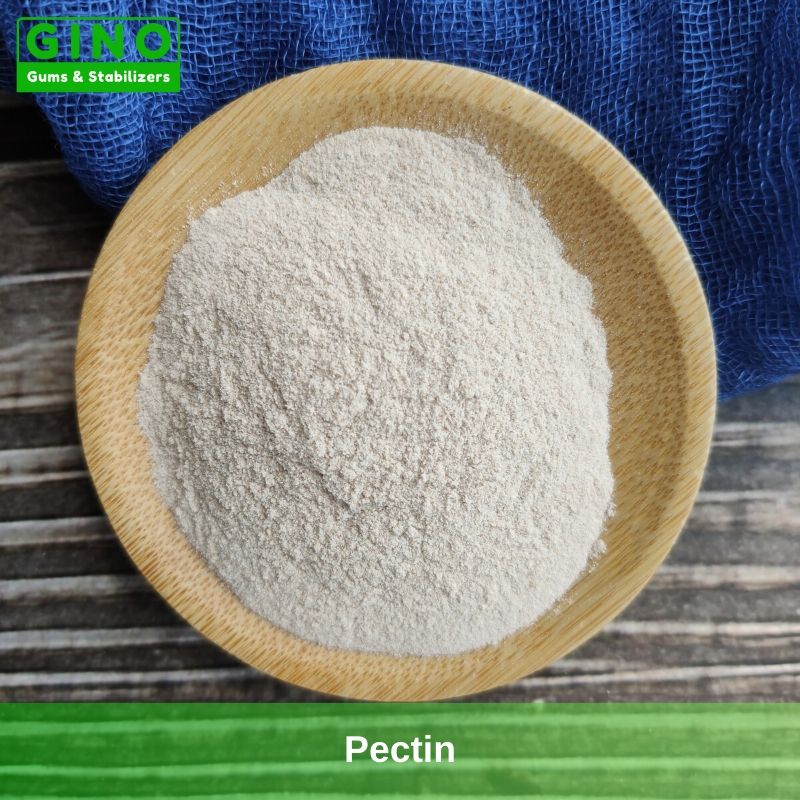 | Category | Thickeners, Stabilizers |
| --- | --- |
| E Number | E440 |
| CAS No. | 9000-69-5 |
| H.S. Code | 1302200000 |
| Origin | China |
| MOQ | 500 KG |
| Packaging | Cartons, Bags |
| Payment Term | T/T, L/C |
GINO_LMA Low Methoxyl Pectin Suppliers
Low Methoxyl Amidated (LMA)
If ammonia is used in an alkaline de-esterification process, a so-called amidated low methoxyl pectin will be produced.
Besides galacturonic acids and galacturonic acid methoxyls, LMA pectin contains galacturonamide units in the molecular chain.
LMA Pectin is low methyl amidated pectins and they are less calcium sensitive and require generally less calcium for optimal gelling. Even the fruit containing calcium or water containing calcium can be sufficient for optimal gelling conditions. LMA pectins are to a large extent very tolerant towards the calcium concentration for building up an optimal gel network.
There are three types of pectin if classified by degree of esterification (DE).
High Methoxy Pectin (HMP). DE > 50% (typically 55-75%).
Low Methoxy Pectin (LMP). DE < 50% (usually 20-40%)
Low Methoxy-Amidated Pectin (LMAP): <25% amidation, 25%
HMP and LMP have the same E number as E440i, while LMAP has a similar E number as E440ii.
High methyl-esterified forms gels in high soluble solids and acidic systems, whereas low methyl-esterified forms gels in a much broader pH and soluble-solids range, but requires the presence of divalent cations for gelling.
Commercial pectin is primarily extracted from citrus peel and apple pomace. If on the basis of origin, it can be divided into Apple Pectin and Citrus Pectin.
SPECIFICATION:
Reactivity to calcium: High
pH (1% solution): 4.0 – 5.0
Degree of Esterification: 25 – 30%
Degree of Amidation: 20 – 25%
SENSORY CHARACTERISTICS:
Appearance: Free flowing powder.
Colour: White to light brown.
Odour: Neutral, free from off-notes.
Taste: Neutral, free from off-flavours.
CHEMICAL AND PHYSICAL CHARACTERISTICS:
Pectin content: > 60 %
Galacturonic acid: > 65 %
Loss on drying: < 12 %
Ash ,total: < 5 %
Acid-insoluble ash: < 1 %
Nitrogen content: < 1 %
SO2:* < 50ppm
Free methyl,
ethyland isopropyl alcohol: < 1 %
Heavy metals as lead: < 15ppm
Lead: < 5ppm
Arsenic: < 3ppm
Particle size: 1% retained on 300um
MICROBIOLOGICAL CHARACTERISTICS:
Total plate count: < 1000 cfu/g
Yeast and mould: < 100 cfu/g
Coliforms: Absent in 1 g
E. coli: Absent in 1 g
Staphylococcus aureus: Absent in 1 g
Salmonella: Absent in 25 g
Gel formation properties of pectin: The most important use of pectin is based on its ability to form gels.
HM pectin forms gels with sugar and acid.
LM pectin requires the presence of divalent cations for proper gel formation. 
LMA pectin results in very smooth and elastic gel structures. Additional calcium normally is only needed if soluble solid content is lower than 40%. LMA pectin is the only pectin which produce thermo reversible gels.
One of the attractive features is that the pH at which pectin has optimal stability matches the natural pH of fruit preserves. Compared to other hydrocolloids, this feature is unique to pectin.

Another advantage is related to the texture which is physically and also organoleptically optimal.

Finally, it gives an excellent flavor release due to its relatively small molecular weight when compared to other hydrocolloids.
Pectin, along with three other ingredients such as cellulose, guar gum, and locust bean gum, is defined by the FDA as a dietary fiber that is beneficial to our health, with the following benefits.
Lowers blood sugar/blood pressure
Keeping cholesterol in the blood
Relieves constipation
Increase satiety and decrease energy intake
Pectin has the ability to reduce low-density lipoprotein (LDL) levels, thereby lowering cholesterol levels, and its ability to slow the passage of food through the intestine, relieving diarrhea. Pectin can also activate cell death pathways in cancer cells, indicating that pectins may play an important role in preventing certain types of cancer.
LMA Pectin in Jam:
In low-calorie jams, jellies and preserves production, LM pectin is used, especially LMA pectin, working with Calcium salts
can form a rapidly homogeneous pectin-Ca2+ gel.
LMA Pectin in Yogurt:
Pectin can improve the texture of yogurt and reduce the tendency towards syneresis. Set yogurt adding with pectin can
get improved firmness resp. stirred yogurt can get a creamier mouth-feel.
Both LMC and LMA can be used in yogurt products. Generally, the recommended addition is about 0.1%-0.2%.
LMA Pectin in Dressings & Glazes:
Dressings are used after the dessert has cooled or frozen for a refreshing taste and appearance.
Glazes are typically applied to baked goods after heating and diluting with water to prevent the product from drying out.
Therefore, a thermo-reversible gel is necessary to ensure a visco-elastic texture after use.
Clearly, LMA Pectin has the advantage of meeting all these requirements. The recommended dosage is generally 1.0 to 1.5%.
Pectin is the most crucial ingredient in making fruit jelly, it's what creates the gelling effect that you're aiming for.
For more info about how to make jelly with pectin, please click HERE.
Need to find some reliable E440 low methoxyl pectin suppliers, exporters in China? As one professional apple pectin and citrus pectin suppliers in China, all grades and forms of pectin products could be provided by Gino. We could help you find the perfect pectin for your application. Please complete the fields below and we will respond to you as soon as possible. 
Best E440 LMA Citrus Pectin - Low Methoxyl Pectin Suppliers in China