Injection Type Carrageenan
Your Premier kappa Carrageenan suppliers
The injection carrageenan is a natural plant hydrocolloid, which belongs to carrageenan for meat products, usually compounded by refined carrageenan after deep processing, which plays the role of gelling, water retention, emulsification, shaping and elasticity enhancement in meat products.
As one of the professional and responsible carrageenan suppliers in China, we can provide various types of carrageenan for meat products and can recommend the most suitable carrageenan to our customers. The selection and use of carrageenan are different due to the differences in the processing of different meat products.
Generally speaking, meat carrageenan can be divided into injection carrageenan and tumbling carrageenan according to the different processes in which it is used.
Contact us to ask about a single hydrocolloid gum or food stabilizers (blends & systems) that would work for your products. Should you have any questions please feel free to send an email to [email protected].
Your Premier kappa carrageenan suppliers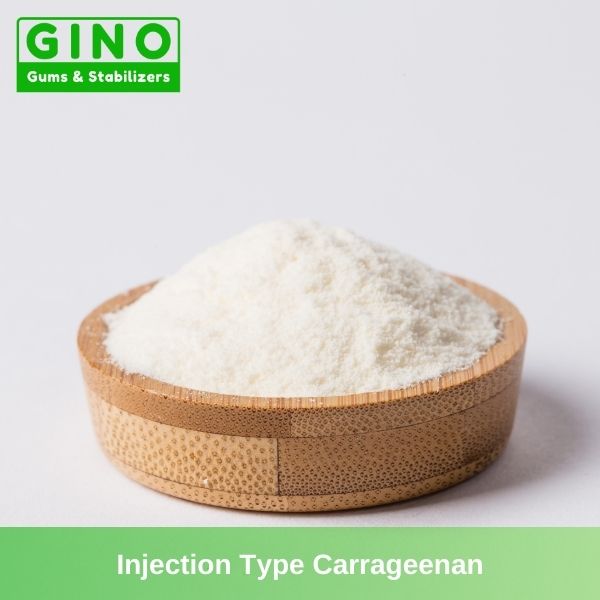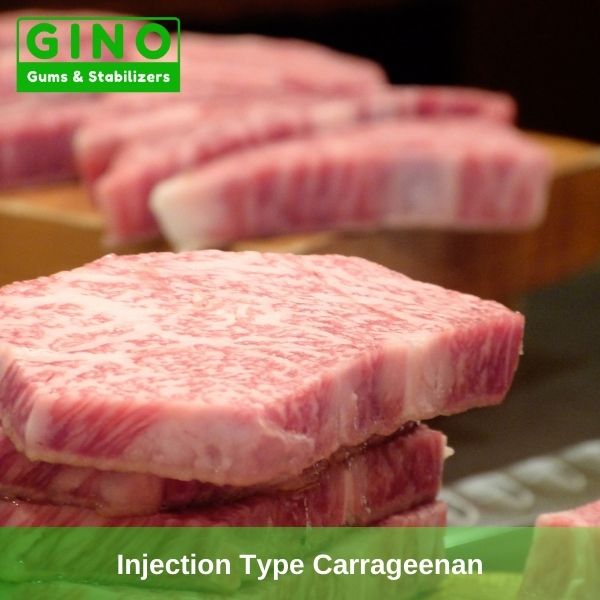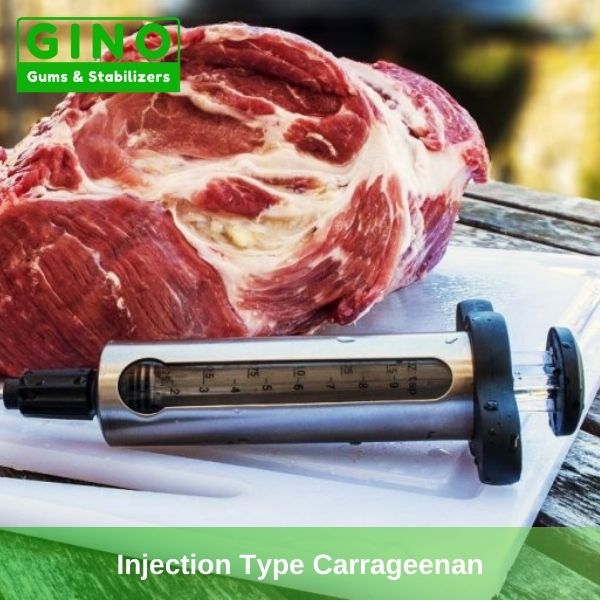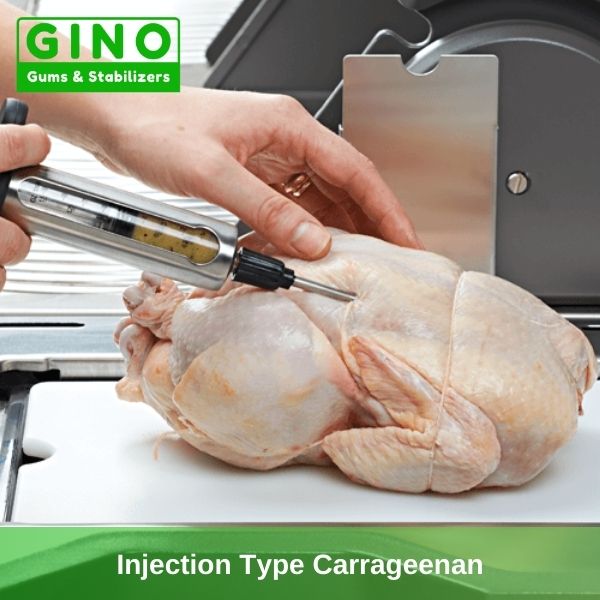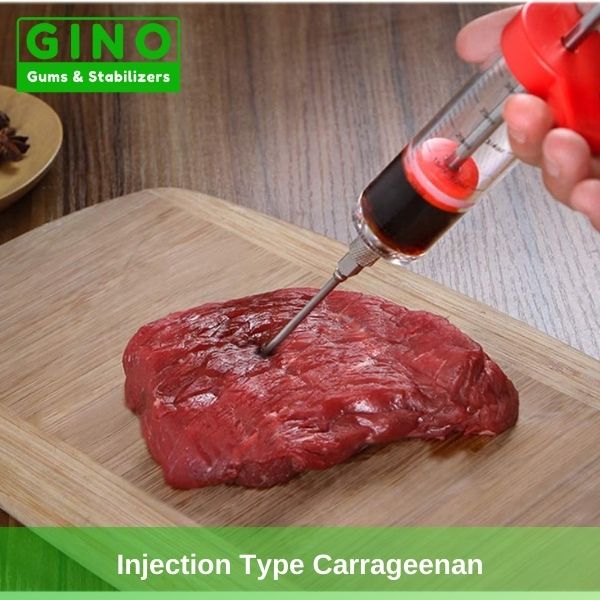 Injection Type Carrageenan
| Category | Thickeners, Stabilizers |
| --- | --- |
| E Number | E407, E407a |
| CAS No. | 9000-07-1 |
| H.S. Code | 1302391100 |
| Origin | China |
| MOQ | 500 KG |
| Packaging | Cartons, Bags |
| Payment Term | T/T, L/C |
GINO_Injection Type Carrageenan Suppliers
According to the production process requirements, it will be configured into an injection solution together with other excipients for injection.
It should be dispersed in saline first, then injected into meat products through an injection needle, and evenly distributed inside the meat tissue.
General Use Method & Attentions
1.Injectable carrageenan should be mixed with other materials (such as salt, sugar, monosodium glutamate, etc.), add the right amount of 4 degrees of ice water, inject evenly inside the meat with the injector while mixing, at which time the carrageenan is in suspension. The amount of carrageenan added is determined by the quality of carrageenan, generally the amount of high-quality injection carrageenan added is between 0.3-0.6%. The main thing to pay attention to is the amount of addition, which affects the taste. After injection, it should be put inside the tumbler for a period of time, so that the carrageenan and other materials can be evenly distributed in the meat.
2. The main technical requirements of injectable carrageenan is its strength should be high, general transparency is fine. The higher the strength, the less the amount of addition.
3. The dispersion of injectable carrageenan is generally very good, generally do not need to have special requirements.
4. As long as the mesh size of injectable carrageenan can reach above 60 mesh, its solubility, suspension and dispersibility in water are not a problem, and it will not block the needle.
5. The general test method of injectable carrageenan is: weigh 2 grams of the product, then add 98 grams of water (room temperature water is fine), then heat and boil, let it stand for more than four hours (the standard requirement is to stand for 12 hours), and then measure its strength and transparency. If you don't have a strength meter, you can use your senses to evaluate its hardness.
Solutions
The sales process is not only about selling products or services, but also about helping customers by providing them with solutions to help them solve their problems and reach their goals. As one of the professional carrageenan suppliers, we have the ability to provide valuable products and series solutions to our customers. Come and contact us!
The purpose of injection and tumbling is to help the phosphates, salts and carrageenan to make good contact with the proteins in the meat fibers, thus allowing the meat fibers to swell up. Generally, the carrageenan used here is pre-cooked refined carrageenan, as it can swell in cold water, interact with the released salt-soluble meat proteins and penetrate into the meat fibers.
Injectable carrageenan is mainly used for block meat products, such as roast meat, marinades and other meat products, ham, steak, bacon and sauced beef.
1. Improve the water holding capacity (not easy to precipitate water) and structural stability of injected meat products.
2. Improve the ability of meat protein to bind water in large meat products and increase the yield.
3. Improve the denseness and texture of meat protein structure, improve the elasticity and toughness of meat products, and improve the slicability.
4. Easy to operate, simple process.
5. Improve product quality and reduce production cost
(1) Injection carrageenan has good dispersibility and fluidity, suitable for applying in injecting large meat products, also can be applied in tumbling or kneading meat products.
(2) Injection carrageenan is a thermo-reversible colloid, so it should not be added too high in meat products, otherwise it will easily lead to the gum bleeding.
We focus our main attention on various kinds of high-quality Hydrocolloids and Stabilizing systems.
No matter you are the manufacturer, supplier, exporter, importer, or distributor, wholesaler, retailer, we could help you find the perfect gums for your application.
Please complete the fields below and let Gino be your next carrageenan suppliers. 
Your Reliable Injection Carrageenan Suppliers!!!